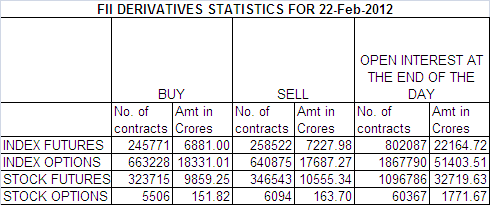 Below is my Interpretation of FII OI data Sheet for 22-Feb-12.
Correction are always fast and furious,and if you are not prepared give you no time to react before you see the screen what has happened.
1. FII sold   12751   Contracts of NF worth 346.98  cores OI also increasing  by whopping  142427 contracts. This is huge increase in OI near expiry.

2. As Nifty Futures was down by 104  points and OI has increased by 142427  contracts means huge shorts  were added by FII on net to net basis.This is the first indication we are getting that FII are entering shorts in system now. Basically it can be looked in 2 ways Booking profits in existing Longs they were helding Secondly Shorting in Big qty. We will get more clarity in coming sessions. 

3. The much awaited correction started but we are still in uptrend till 5469 is not broken on closing basis.

4. Nifty Feb  OI has decreased   by 5  lakh .Total OI stands at 1.58 cores  contracts.March Series saw a massive addition of 64 lakh contracts with total OI at massive 2 cores. Today's price action will confirm whether shorts are added to system or were buy on dips strategy was used by Fund Houses.

5. As 60 Lakhs got rollovered today when Nifty March Future  made a low of  5547 and High of 5663 implying 5574 be an important support levels for March Series.Yesteday we talked about 5614 and today as soon as it got broken NF March made a low of 5541
7.Total F&O turnover was whopping 2.24 Lakh cores with highest Volume traded in Feb series 462957 . Today will be full volatile day and I will provide the range of NF on Fb page so that it can be helpful in trading.
8. In equity FII bought 829 cores DII sold 1333 cores. FII are still buying the dips.
9. 5600 CE is having highest OI of  65 Lakhs seems 5600 CE writers have won atlast making Nifty close below 5600 levels,  5400 PE is having the highest OI  69 Lakhs. 5400 looks like a firm base.

12 . Total Puts covered yesterday were 39 lakhs and 35 Lakhs call were written so with jsut 100 points fall the screen has started showing weekness. First sign of weekness is creeping in the system with more less call getting shorted and more puts covered.

11. FII SAR for Today 5526 NF Feb((For Positional Traders) and VWAP at 5384 NF (Below this Level Bears will attack Nifty).
12. Yesterday we were already prepared for fall as NF in morning started trading below our level of 5626 and easily 100 points were made in NF.
 Now Where can be the Expiry.Lets do some data analysis
Nifty Spot High:5630
Nifty Spot Low:5076
Range:554
Expiry causes maximum pain to short term Players, Now Bulls are in pain after yesterdays fall so basically if 5542 is not broken on upside Bulls can run for unwinding of positions and Nifty can see a good fall after 2:30 PM (Please do not take this as trade recommendation)
Upper End of Expiry:5582

Lower End of Expiry:5427
Let me go by Disclaimer these are my personal views and trade taken on these observation should be traded with strict Sl
We do discussion is Live market to update Nifty levels If you are interested you can LIKE the page to get Real Time Updates.
Follow on Facebook during Market Hours:  http://www.facebook.com/pages/Brameshs-Tech/140117182685863