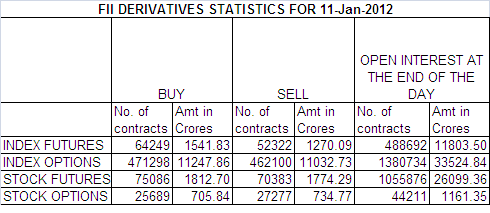 Below is my Interpretation of FII OI data Sheet for 11-Jan-11.
1. FII bought   11927 Contracts in NF worth 271.13  Cores in Index Futures with Open Interest increasing  by 13137 contracts.
2. As NF  was up by 2  points and OI has increased today, with rise in price so FII have created long in Index futures.Dips which came near 4845-50 were aggressively bought into.
3.After a big rise of 120 points   on Tuesday best case  for BULLS was to have a consolidation day with positive bias as we have three major events lined up tomorrow Infosys results  before market hours and IIP data at 11 AM  and also Inflation data and that will decide the further trend of market.

4. Today FII OI is highest in the series so far and they are net long in Nifty. FII can turn there colors very easily if Infy or IIP disappoints.

5. Today as mentioned in our FaceBook Page  Nifty will face resistance at 50SMA@4877 and Nifty made a high of 4877.35 before correcting intraday. You can LIKE    this page if you want Real time updates during market hours.
6. NF total OI was at 2.14 cores with just 14.3 k addition  in  OI longs  so longs were held by retailers and HNI.
7. In Equity cash segment FII bought  431cores  whereas DII sold   182 cores, so does FII Buying signify that Nifty should rise further well never go by that assumption.
If one look at data from Nov3-Nov 9 FII were net buyers for 4 days in a row when Nifty closed at 5237 and than Nifty just kept on going down for rest of series. Equity buying is always a delayed cycle.
8. As per Options data  5000 CE has highest OI of  74 lakhs addition of  7.4 lakh and 4500 PE has highest OI of 76 Lakhs addition  of  2.7  Lakh. 4500 PE has come to single digits now.
9. 4700 PE has added another 4.5  lakhs in OI  so total of 42  lakh in 5 days but premium has reduced by just Rs 1.5. 4600 PE premium also declined by same amount ie Rs 1.5. It seems buyers got active in 4700 PE in anticipation of fall tomorrow. Will market oblige ?
10. 5100 CE has seen an addition of  another 5  Lakhs in OI so in total 23 lakh in past 5 trading session Speculative money is entering in 5100 CE  as today we saw no change in price.
11. FII SAR level  comes at  4830. Positional Longs keep this as your SL
12. Today we have formed a DOJI candle on daily charts which is seen as sign of exhaustion and BUlls unable to take nifty above 4877 which is 50 SMA. Bears were unable to take Nifty below 4825-4813 range. 4825 was days pivot and 4813 was Tuesday last hour low so closing above both these levels signify buying.So the indecision between Bulls and Bears should get resolved by tomorrow EOD
13. Bulls need to close above 4883 level tomorrow as it being 61.8% retracement of 4532-5100. In past Nifty has corrected from 61.8% fibo levels and this level of 4883 will be watched closely tomorrow trading.  Interesting session ahead
Buy above 4870  Tgt 4883,4910 and 4940 

Sell below 4820 Tgt 4804,4786 and 4769
All levels mentioned are SPOT levels.
Let me go by Disclaimer these are my personal views and trade taken on these observation should be traded with strict Sl
Follow on Facebook during Market Hours:  http://www.facebook.com/pages/Brameshs-Tech/140117182685863