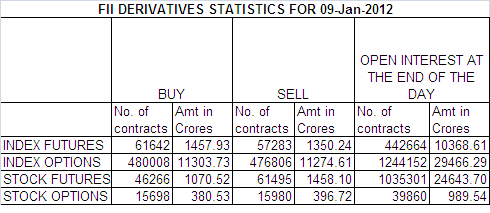 Below is my Interpretation of FII OI data Sheet for 9-Jan-11.
1. FII bought   4359  Contracts in NF worth 107.69 Cores in Index Futures with Open Interest decreasing  by 13454 contracts.
2. As NF  was down by 9 points and OI has reduced today, with fall in price so FII have used the morning dips to cover there shorts. On Friday 11 Lakh NF was shorted at 4804 so some might have got covered today in morning dip.
3. From past 4  trading days have been  quiet irritating and frustrating to most of traders as it was just trading in tight range of 4692-4800 and not showing any trending move. Directional call and positional traders SL gets hit on both side in such marekts.
4. Nifty is forming a contracting triangle on hourly charts both on upside and downside. Resistance are coming down 4775 and support are coming up 4705 which means breakout is soon on cards but when it will be is million dollar question. Will Infy be the trigger ?
5. Technically today is fifth  close above 20 SMA@4707 and it signify bulls are preparing ground to break the elusive level of 4840.
6. Today's   session  was on decent  volumes 3.2 Lakh NF .Total turnover is just 83K cores.
7. NF total OI was at 1.99 cores with 4.5 lakh reduction  in  OI longs  taken by retailers on Friday got liquidated today in morning fall.
8. In Equity cash segment FII sold – 36 cores  whereas DII bought   29 cores, NO major fund action was not seen.
9. As per Options data  5000 CE has highest OI of 58  lakhs addition of 2.7 lakh and 4500 PE has highest OI of 71 Lakhs addition   of  1.43   Lakh. 71 Lakh addition in just 6 days in series.
10. 4700 PE has added another 5.5  lakhs in OI  so total of 32  lakh in 4 days  which make me believe 4700 is base or support for market in immediate near term. From past 2 session nifty futures  made a low of 4692 and 4705 and market bounced back sharply signify the grip of writers on 4700 levels.
11. 5100 CE has seen an addition of  another 3.1  Lakhs in OI so in total 13 lakh in past 4 trading session, As market has been rangebound its a one of the best trade for writers as they can write OTM calls and Puts and eat the decay in premium with each passing day.
12.On Thursday we told that 4300 PE addition with 12 rs and it was smart money which wrote today we saw the liquidation of 4 lakh and price has reduced to 7 rs. So a gain of 30% in 3 days Not bad in such market condition. Option Writers are always winner in rangebound market.
13. Today we saw an addition of 4.5 lakh in 4400 PE with price as 14 so now smart money has moved to 4400 PE.
14. FII SAR level  comes at  4684. It was 4706 on Friday and nifty future made a low of 4705 today 🙂
15. For Positional traders wait for breakout above 4800 or breakdown below 4676 for some trending moves till than reduce your commitments towards market. Let the market show it color than jump into . Most traders loose money when they "anticipate " moves and opposite happens.
Let me go by Disclaimer these are my personal views and trade taken on these observation should be traded with strict Sl
Follow on Facebook during Market Hours:  http://www.facebook.com/pages/Brameshs-Tech/140117182685863