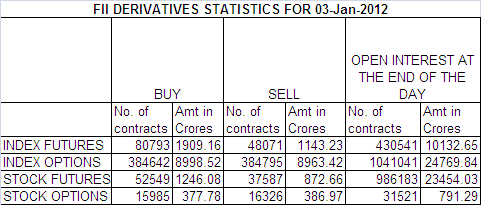 Below is my Interpretation of FII OI data Sheet for 3-Jan-11.
1. FII bought   32,722 Contracts in NF worth 765.93 Cores in Index Futures with Open Interest increasing  by 24,178 contracts.
2. As NF  was  up  by 136  points  with Open Interest increase by  FII . Rise  in OI with Rise  in price means  shorts were squared off still no indication of Long entry by FII in Nifty Futures. We get such sharp and swift rally the last one was on 21 Dec  in a while and it gets fade off  in subsequent session,This has been trend from past many month will it be different this time?
3. We discussed the possibility of reversal yesterday and it got materialized today confirmation came in first 15 min only when Nifty Spot got comfortably traded above 4690 which was first resistance as per our Weekly Analysis.
4. For Candlestick follower yesterday we formed a DragonFly Doji on Daily charts which is considered a candle for reversal and today we formed a White  marabuzo.
Read More about  Confirmation will come with Nifty closing above today's high tomorrow and low of 4676 saved throughout the week.
5. Today's trending  session  was on  volumes 3,6 Lakh NF .Total turnover is just 87.7 K cores. Today rise was backed by buying in  Banks,RIL,LT so we have a good buying so best is not to jump in shorts right now till reversal signals are seen.
6. NF total OI was at 2.08 cores with 7.74 lakh addition OI addition with rise in price means longs were added in NF .
7. In Equity cash segment FII bought  255 cores  whereas DII bought  206 cores. Both DII and FII are bbuyers after 5 Dec. If we see a follow through buying the resistance level of 4840 shall we taken out in this week itself.
8. As per Options data  5000 CE has highest OI of 48  lakhs addition of 1 lakh and 4500 PE has highest OI of 59  Lakhs addition   of  7.45 Lakh.7.45 addition is shorts in 4500PE.
9. 4700 PE has added 19 lakhs in OI which make me belive 4700 is base or support for market in immediate near term.
10. 5100 CE has seen an addition of 6.89 Lakhs in OI was it smart money or retails buying in speculation?
11. FII have bought Options today worth 35 cores with net OI addition of 18k so they have not booked any profit and yesterday we has calculated they were buyers in call options so they are still holding the same which signify its not a single day rally and more is to come.
12. FII SAR level  comes at  4706. Keep this level as SL for positional longs.
13. Today after 20 trading session Nifty has closed above 20 SMA @4740 and technically its looks all set to touch 50 SMA at 4925.
13. On Upside above above 4775 Nifty Tgt 4810,4840 and 4881.

14. On dowside below 4740 Nifty Tgt 4724 ,4696 and 4676 (Nifty Spot Level)
Let me go by Disclaimer these are my personal views and trade taken on these observation should be traded with strict Sl
Follow on Facebook during Market Hours:  http://www.facebook.com/pages/Brameshs-Tech/140117182685863
I did some typo mistake on levels which have been corrected.. Thanks for pointing out for mistake