Finance Nifty again failed to break its 1×2 angle, and closed near its 200 DMA and formed another DOJI. Price has closed above 01 Nov High @19196, Till Bulls are holding above 19196 Finance Nifty can see rally towards 19500-19525. Today Bayer Rule 9: Big changes on market are when Mercury passes over 19 degrees 36 minutes of Scorpio and Sagittarius,also over 24 degrees 14 minutes of Capricorn. will also become active and Saturn going direct on 04 Novemeber. So carry overnight positions with Hedge.
Finance Nifty saw a big gap up today and price is forming higher highs closed above both 200/20 DMA and 50% of the entier fall at 19427 and above gann angle. Till we are above 19427 Bulls are in the control.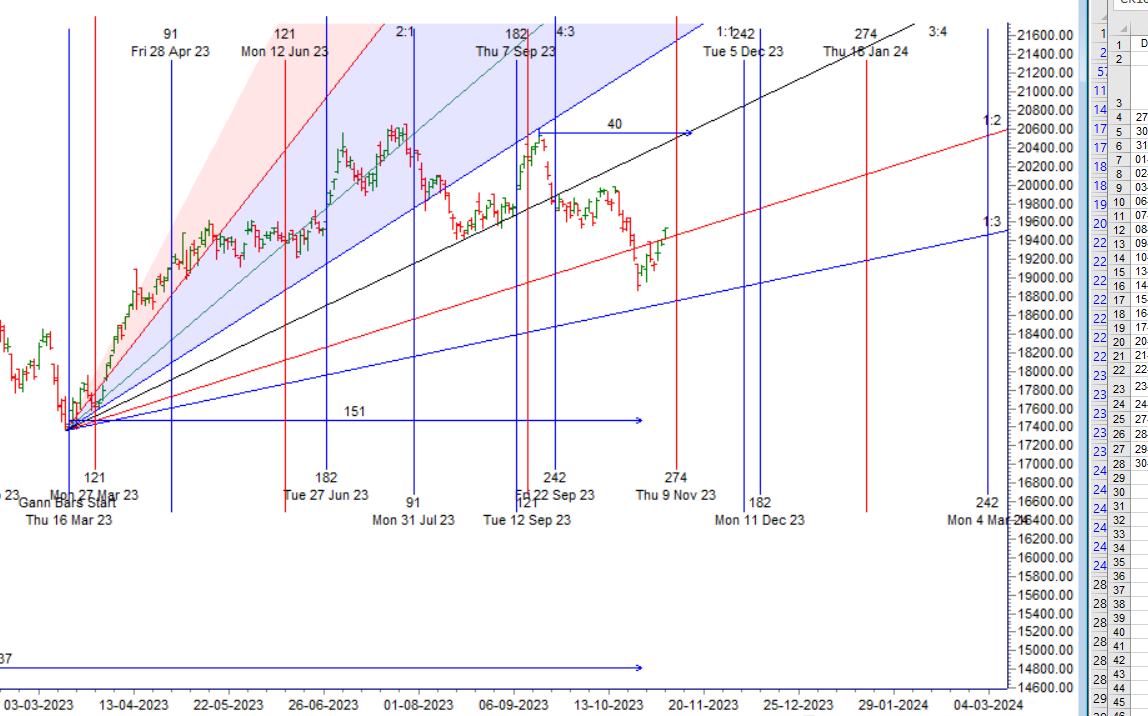 Finance Nifty Trade Plan for Positional Trade ,Bulls will get active above 19562 for a move towards 19632/19702. Bears will get active below 19478 for a move towards 19408/19338.
 Traders may watch out for potential intraday reversals at 9:15,12:06,1:26,2:29  How to Find and Trade Intraday Reversal Times
Finance Nifty Nov Futures Open Interest Volume stood at 53080 with addition of 4520 contracts. Additionally, the increase in Cost of Carry implies that there was a addition of LONG positions today.
Finance Nifty Advance Decline Ratio at 15:04, Finance Nifty Rollover Cost is @19275 closed above it
Finance Nifty has closed above  its 20 DMA @19512, Holding 19500 can see rally towards 19666/19729. 
Traders who follow the musical octave trading path may find valuable insights in predicting Bank Nifty's movements. According to this path, Finance Nifty may follow a path of 18832-19376-19953 . This means that traders can take a position and potentially ride the move as Bank Nifty moves through these levels. Of course, it's important to keep in mind that trading is inherently risky and market movements can be unpredictable.  Price has taken closed above  19376 
According to the Finance Nifty options chain, the call side has the highest open interest (OI) at the 19550 strike, followed by the 19650 strike. On the put side, the 19450 strike has the highest OI, followed by the 19400 strike.  This indicates that market participants anticipate Finance  Nifty to stay within the 19500-19600 range. 
The Finance Nifty options chain shows that the maximum pain point is at 19550 and the put-call ratio (PCR) is at 0.88 . Typically, when the PCR open interest ranges between 0.90 and 1.05, the market tends to remain range-bound.
"Years of practice at the game, of constant study, of always remembering, enable the trader to act on the instant when the unexpected happens as well as when the expected comes to pass."
For Positional Traders, The Finance Nifty Futures' Trend Change Level is At 19362. Going Long Or Short Above Or Below This Level Can Help Them Stay On The Same Side As Institutions, With A Higher Risk-reward Ratio. Intraday Traders Can Keep An Eye On 19585 , Which Acts As An Intraday Trend Change Level.
Intraday Trading Levels for Finance Nifty
Buy Above 19550 Tgt 19580, 19610 and 19650  ( Finance Nifty Spot Levels)
Sell Below 19520  Tgt 19485, 19450 and 19423 (Finance Nifty Spot Levels)
FINANCE Nifty Expiry Range
Upper End of Expiry : 19650
Lower End of Expiry : 19423
Wishing you good health and trading success as always.As always, prioritize your health and trade with caution.
As always, it's essential to closely monitor market movements and make informed decisions based on a well-thought-out trading plan and risk management strategy. Market conditions can change rapidly, and it's crucial to be adaptable and cautious in your approach.