Analysis of FIIs' behavior in the Nifty Index Futures market shows a Bearsih  approach as they displayed a preference for SHORT positions. On a net basis, FIIs went SHORT 7602 contracts worth 747 crores, resulting in an increase of 1290  contracts in the Net Open Interest.
We have multiple Astro Events today which Involves Sun Mercury Moon and North Node
Moon Extreme Decliantion

Sun Conjunct Mercury

"Bayer Rule 2: Trend goes down within 3 days when the speed difference between Mars and Mercury is 59 minutes. Leads to Big Move "

Mercury Opposition North Node

Solar Eclipse Gann Date
Nifty has completed 144 trading days from 20 March low yesterday and today with Multiple Astro dates , we are seeing confluence of Astro and Gann Dates which can lead to big move. TIll Price is below 19683 Bears have upper hand. Intraday Traders can watch out for first 15 mins High and Low to capture the trend of the day using Ratio Indicator 
When Astro and Gann Date confluence its leads to big move , Same Happened on Monday, Nifty broke the 144 Days low of 19518 and on Weekend we had Mercury and Sun Chaging Sing which lead to Double Ingress and we broke the last swing low of 19333 and closed below it. Now 19333-19350 range will act as a Strong resistance for any pull back.   Next  2 trading session are important as we have Monthly expiry coming up and "Bayer Rule 15: VENUS HELIOCENTRIC LATITUDE AT EXTREME AND LEAST SPEEDS FOR MAJOR MOVES Imp Rule". To Capture trend of the day watch out for first 15 mins High and Low.
Nifty Trade Plan for Positional Trade ,Bulls will get active above 19347 for a move towards 19417/19496 . Bears will get active below 19207 for a move towards 19137/19067.
Traders may watch out for potential intraday reversals at 9:46,12:31,1:04,2:19 How to Find and Trade Intraday Reversal Times
Nifty Nov Futures Open Interest Volume stood at 1.68 lakh cr , witnessing a addition  of 16.8 lakh contracts. Additionally, the increase in Cost of Carry implies that there was a addition of SHORT positions today.
Nifty Advance Decline Ratio at 02:48 and Nifty Rollover Cost is @19768 and Rollover is at 70.4%.
Nifty closed above 20/50/100 SMA and  last swing low of 19333 heading towads 19108/19044  till we close below 19410.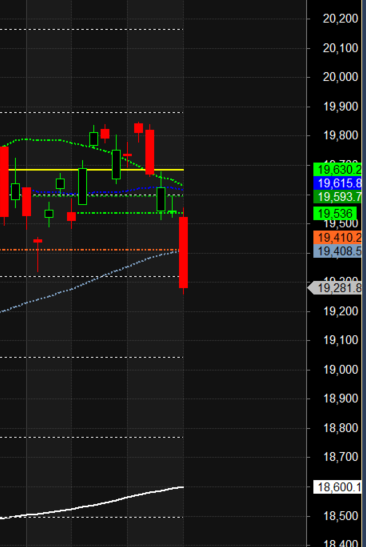 Nifty options chain shows that the maximum pain point is at 19300 and the put-call ratio (PCR) is at 0.85. Typically, when the PCR open interest ranges between 0.90 and 1.05, the market tends to remain range-bound.
Nifty 50 Options Chain Analysis
The Nifty 50 options chain indicates that the highest open interest (OI) on the call side is at the 19400 strike, followed by 19500  strikes. On the put side, the highest OI is at the 19200 strike, followed by 19100   strikes. This suggests that the market participants are expecting Nifty 50 to remain range between 19100 -19500  levels.Total Call OI is 6.95 cr and Total Put OI is 7.58 cr
In the cash segment, Foreign Institutional Investors (FII) sold 1093 crores, while Domestic Institutional Investors (DII) bought 736 crores.
Traders who follow the musical octave trading path may find valuable insights in predicting Nifty's movements. According to this path, Nifty may follow a path of 18890-19452-20014 This means that traders can take a position and potentially ride the move as Nifty moves through these levels.Of course, it's important to keep in mind that trading is inherently risky and market movements can be unpredictable.Price has closed below  19452
By implementing contingency planning, you can take swift, decisive action the instant one of your positions changes its behavior or is hit with an unexpected event.
For Positional Traders, The Nifty Futures' Trend Change Level is At 19657 . Going Long Or Short Above Or Below This Level Can Help Them Stay On The Same Side As Institutions, With A Higher Risk-reward Ratio. Intraday Traders Can Keep An Eye On 19398 , Which Acts As An Intraday Trend Change Level.
 Nifty Intraday Trading Levels
Buy Above 19333 Tgt 19366, 19400  and 19424 ( Nifty Spot Levels)
Sell Below 19250 Tgt 19225, 19200 and 19156 (Nifty Spot Levels)
Wishing you good health and trading success as always.As always, prioritize your health and trade with caution.
As always, it's essential to closely monitor market movements and make informed decisions based on a well-thought-out trading plan and risk management strategy. Market conditions can change rapidly, and it's crucial to be adaptable and cautious in your approach.