Finance Nifty is back towards its 100 DMA and Gann angle support as shown below.Today being weekly close bears would like to close below 19777 for dowmove to continue towards 19600-19500. Today we have Mercury at Greatest Elong: 17.9°W and tommrow  Autumnal Equinox so watch for 15 mins high and low to capture trend for the day.
Finance Nifty showed a perfect bounce from the gann angle , Bulls need a close above 20000 for the correction to get over else Bears can break 100 DMA which has been holding from almsot 5 time. More we touch a support more weaker it becomes. Mercury Trine Jupiter Aspect today suggesting break of todays high and low can lead to trending move. Monthly expiry toomrow generally leads to trending move.
Finance Nifty Trade Plan for Positional Trade ,Bulls will get active above 19912 for a move towards 19981/20055/20108 . Bears will get active below 19772 for a move towards 19702/19633/19563
 Traders may watch out for potential intraday reversals at 9:34,10:12,11:25,1:28,2:45 How to Find and Trade Intraday Reversal Times
Finance Nifty Sep Futures Open Interest Volume stood at 58200 with addition of 3280 contracts. Additionally, the increase in Cost of Carry implies that there was a addition of SHORT   positions today.
Finance Nifty Advance Decline Ratio at 09:10, Finance Nifty Rollover Cost is @19856 closed above it
Finance Nifty is back towards its 100 DMA @19798 close below it can lead to fall towards 19155.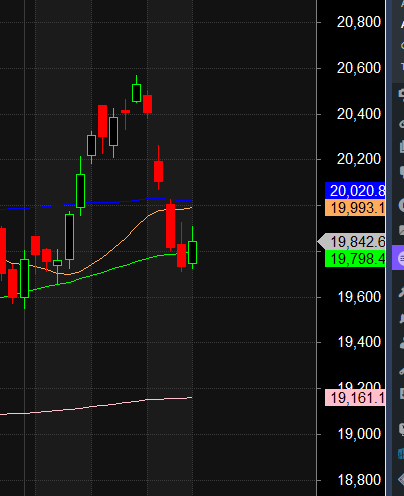 Traders who follow the musical octave trading path may find valuable insights in predicting Bank Nifty's movements. According to this path, Finance Nifty may follow a path of 21140-20529-19953 . This means that traders can take a position and potentially ride the move as Bank Nifty moves through these levels. Of course, it's important to keep in mind that trading is inherently risky and market movements can be unpredictable.  Price has broken  19953 heading towards 19376.
According to the Finance Nifty options chain, the call side has the highest open interest (OI) at the 19900 strike, followed by the 20000 strike. On the put side, the 19800 strike has the highest OI, followed by the 19700 strike.  This indicates that market participants anticipate Finance  Nifty to stay within the 19700-19900 range. 
The Finance Nifty options chain shows that the maximum pain point is at 19850 and the put-call ratio (PCR) is at 0.73. Typically, when the PCR open interest ranges between 0.90 and 1.05, the market tends to remain range-bound.
To create money management, position size calculation or the elaboration of a profitable set of rules. All of these very useful tools are of little help if you are not able to use them in a disciplined manner.
For Positional Traders, The Finance Nifty Futures' Trend Change Level is At 20099 . Going Long Or Short Above Or Below This Level Can Help Them Stay On The Same Side As Institutions, With A Higher Risk-reward Ratio. Intraday Traders Can Keep An Eye On 19827 , Which Acts As An Intraday Trend Change Level.
FIN Nifty Expiry Range
Upper End of Expiry : 19955
Lower End of Expiry : 19729 
Intraday Trading Levels for Finance Nifty
Buy Above 19850  Tgt 19872, 19900 and 19955 ( Nifty Spot Levels)
Sell Below 19816 Tgt 19785, 19743 and 19714 (Nifty Spot Levels)
Wishing you good health and trading success as always.As always, prioritize your health and trade with caution.
As always, it's essential to closely monitor market movements and make informed decisions based on a well-thought-out trading plan and risk management strategy. Market conditions can change rapidly, and it's crucial to be adaptable and cautious in your approach.