25-29 Sep we will have Sep 2023 Monthly Expiry for Nifty, Weekly and Monthly clsoe and NAV Adjustment for Mutual Funds. Below are multiple  astro  event coming next week suggesting another volatile week on cards.
Autumnal Equinox
Mercury at Perihelion
Moon at Perigee
FULL MOON
Mercury Trine Jupiter
Venus Square Uranus
Bayer Rule 2: Trend goes down within 3 days when the speed difference between Mars and Mercury is 59 minutes. Leads to Big Move
Nifty Harmonic Pattern
Price is heading towards 19617/19453 till below 19800
Nifty Gann Angles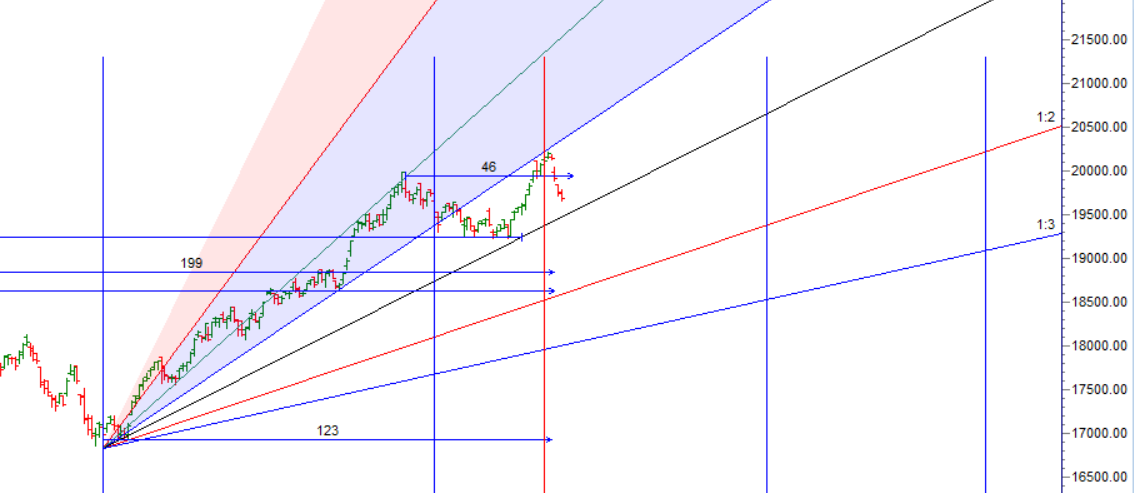 Price has corrected from 1×1 Gann Angle and heading towards support at 1×2 Gann angle at 19500.
Planetary Cycles and Nifty Movements
Price is back to  Mercury Plannetary line support.
Nifty Supply and Demand

Self Explanatory Chart
Nifty  Time Analysis Pressure Dates
25/29 Sep is the Important Gann/Astro Date for coming week.
Nifty Weekly Chart
Price has formed Weekly Bearish engulfing pattern. 
 Nifty Monthly Charts

19824 is Monthly Resistnace zone 19546 is Support zone. 
Nifty Weekly Chopad Levels
Nifty Trend Deciding Level: 19700
Nifty Resistance: 19770,19840,19910,19980
Nifty Support: 19631,19561,19491,19424,19350
Levels mentioned are Nifty Spot
As always I wish you maximum health and trading success