Finance Nifty is facing resistance at 1×1 gann angle and Price is still un able to close above 20440. Finance Nifty has underperfomed NIfty. WHile Nifty is hitting fresh all High Finance Nifty is unable to.
Finance Nifty has reacted from the Gann angle and astro date as discussed in below video, All thanks to HDFC Bank we have seen a decent cut in finance nifty. We have 2 important astro date coming tommrow and we will see FOMC meeting outcome today 
Bayer Rule 6: The price is in bottom/top when Mars was in 16 degrees 35 minutes of some sign and plus 30 degrees.
Bayer Rule 27: Big tops and big major bottoms are when Mercury's speed in Geocentric longitude is 59 minutes or 1 degree 58 minutes.
First 15 mins High and low will guide for the day.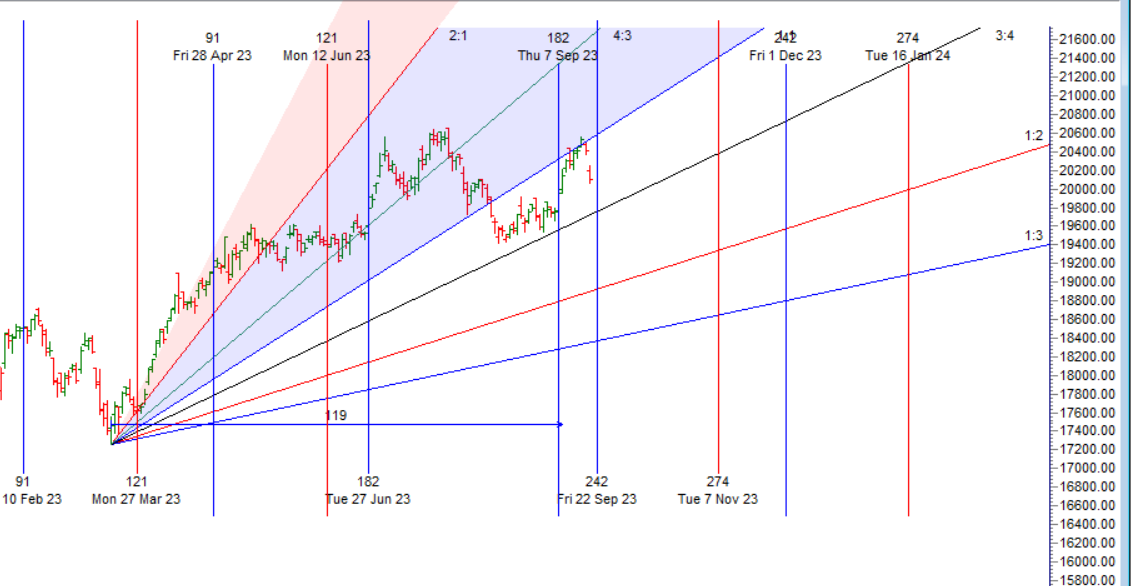 Finance Nifty Trade Plan for Positional Trade ,Bulls will get active above 20151 for a move towards 20223/20294/20366. Bears will get active below 20080 for a move towards 20008/19936.
 Traders may watch out for potential intraday reversals at 9:15,10:48,11:39,01:36,02:47 How to Find and Trade Intraday Reversal Times
Finance Nifty Sep Futures Open Interest Volume stood at 60560 with liquidation of 4640 contracts. Additionally, the increase in Cost of Carry implies that there was a liquidation of LONG  positions today.
Finance Nifty Advance Decline Ratio at 05:14, Finance Nifty Rollover Cost is @19856 closed above it
Finance Nifty price is above all its short and long term moving average, Trend is Buy on Dips till 20000 is held.
Traders who follow the musical octave trading path may find valuable insights in predicting Bank Nifty's movements. According to this path, Finance Nifty may follow a path of 21140-20529-19953 . This means that traders can take a position and potentially ride the move as Bank Nifty moves through these levels. Of course, it's important to keep in mind that trading is inherently risky and market movements can be unpredictable.  Price has reacted from  20529 and heading towards 19953.
According to the Finance Nifty options chain, the call side has the highest open interest (OI) at the 20300 strike, followed by the 20400 strike. On the put side, the 20100 strike has the highest OI, followed by the 20000 strike.  This indicates that market participants anticipate Finance  Nifty to stay within the 20000-20300 range. 
The Finance Nifty options chain shows that the maximum pain point is at 20200 and the put-call ratio (PCR) is at 0.93. Typically, when the PCR open interest ranges between 0.90 and 1.05, the market tends to remain range-bound.
The mind is mischievous and it often is the primary cause of failures. The market is always creating noises and if a trader fails to control his inner noises, how can he listen to what the market is trying to tell him
For Positional Traders, The Finance Nifty Futures' Trend Change Level is At 20147 . Going Long Or Short Above Or Below This Level Can Help Them Stay On The Same Side As Institutions, With A Higher Risk-reward Ratio. Intraday Traders Can Keep An Eye On 20191 , Which Acts As An Intraday Trend Change Level.
Intraday Trading Levels for Finance Nifty
Buy Above 20125  Tgt 20166, 20199 and 20222 (Fin Nifty Spot Levels)
Sell Below 20060 Tgt 20023, 19999 and 19942 (Fin Nifty Spot Levels)
Wishing you good health and trading success as always.As always, prioritize your health and trade with caution.
As always, it's essential to closely monitor market movements and make informed decisions based on a well-thought-out trading plan and risk management strategy. Market conditions can change rapidly, and it's crucial to be adaptable and cautious in your approach.