As Discussed in Last Analysis Bank Nifty has seen 4 Week of fall and heading towards 5 Week which is very crucial as it can lead to strong trending move. Also Gann and Astro cycle  of Moon and Mercury Declination are coming together as discussed in below video, so be ready to capture the move with levels as mentioned below.
Bank  Nifty saw a green candel after 4 week of red close price is taking support at 100 DMA next week we have monthly expiry and important astro events as dicussed in below video which should lead to trending move in Bank Finance
Mercury Conjuct Venus Helio
"Bayer Rule 2: Trend goes down within 3 days when the speed difference between Mars and Mercury is 59 minutes. Leads to Big Move "
Mars Ingress
SUN Opposition Saturn
Uranus Turning Direct
"Bayer Rule 15: VENUS HELIOCENTRIC LATITUDE AT EXTREME AND LEAST SPEEDS FOR MAJOR MOVES Imp Rule"
"RULE NO. 38 MERCURY LATITUDE HELIOCENTRIC Some mighty fine tops and bottoms are produced when Mercury in this motion passes the above mentioned degrees"
Jupiter 72 Saturn
Astro analysis can help identify trends and reversals in the market, and it can be used in combination with other technical analysis methods to improve the accuracy of trading strategies. Gann analysis involves studying charts and identifying support and resistance levels to pinpoint potential trading opportunities.
Bank Nifty Harmonic Pattern
Price can  extend fall on downside to complete D pattern if it breaks 44000 towards 43500/43000.
Bank Nifty Gann Angles
Price has broken out of 1×1 gann angles heading higher towards 3×4 gann angle
Planetary Cycles and Bank Nifty Movements

Price is sandwiched between  Mercury and Jupiter Plannetary line.
Bank Nifty Supply and Demand

Self Explanatory Chart
Bank Nifty Time Analysis Pressure Dates
28/31 Aug is the Important Gann/Astro Date for coming week.
Bank Nifty Weekly Chart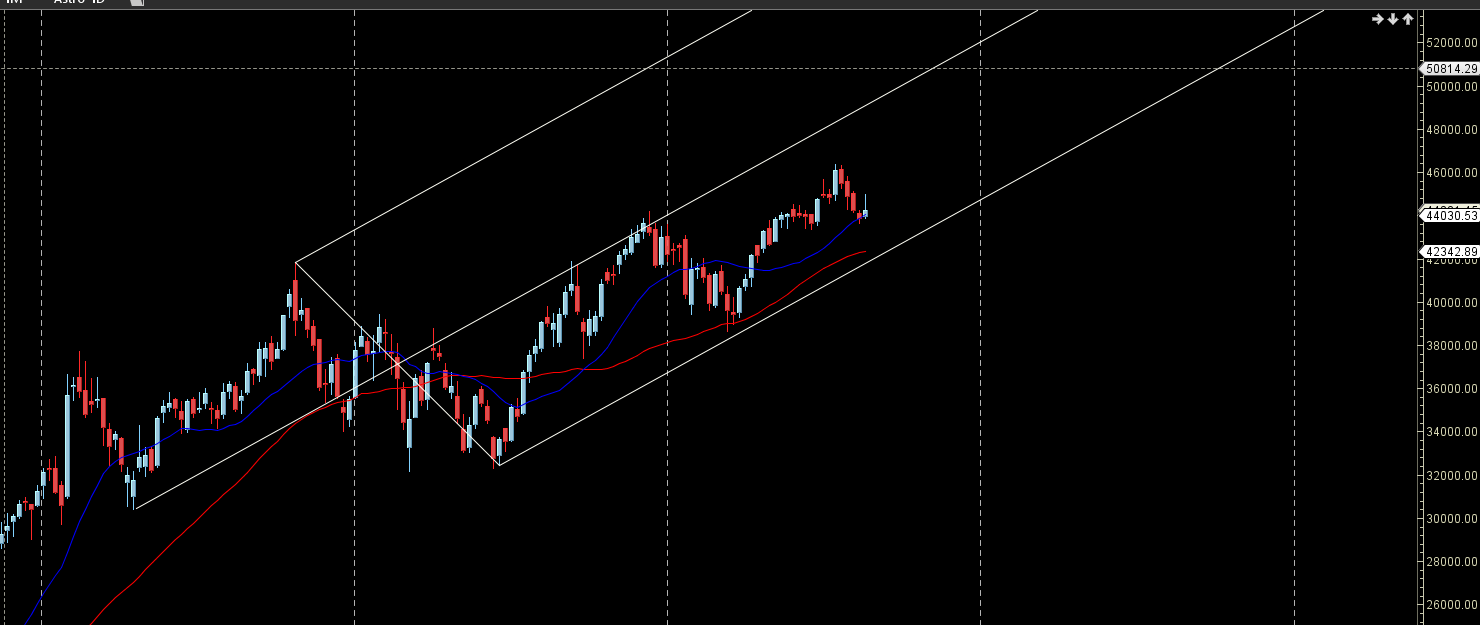 Price is back to 100 DMA on Daily time frame and middle of AF
Bank Nifty Monthly Charts

43500 is Monthly Resistnace zone 43787  is Support zone. 
Nifty Weekly Chopad Levels
Nifty Trend Deciding Level: 44247
Nifty Resistance: 44459,44672,44884,45096
Nifty Support: 44035,43822,43610,43398
Levels mentioned are Nifty Spot
As always I wish you maximum health and trading success