Foreign Institutional Investors (FIIs) displayed a Bearish approach in the Nifty Index Futures market by Shorting 7419  contracts worth 734  crores, resulting in a decrease of 3287 contracts in the Net Open Interest. FIIs sold 1810 long contracts and added 2941 short contracts , indicating a preference for covering LONG and adding SHORT positions .With FII Long Short Ratio @76.5 %  and FII Long to Short Ratio at 2.35FII's are heavily long in market , FIIs utilized the market rise to exit Long positions and add short positions in NIFTY Futures.
Yesterday, the Nifty reached a fresh all-time high at 19,819. Today, the Nifty is completing a 120-degree movement from its low on 20th March. Additionally, we have two significant short-term astrological events: Venus Square Mercury HELIO and Pluto, along with Earth being at its minimum distance. These events involving Mercury, Venus, and the outer planet Pluto indicate the potential for volatile moves in the Nifty. The Nifty is also influenced by the combination of Venus, Mercury, and Gann Dates aligning together, suggesting a potent combination of Gann analysis and astrology, indicating the possibility of a significant market move. It is important to be prepared for such moves based on the levels mentioned below. Additionally, today, the RIL-Jio Financial demerger will take place, and since Reliance is an index heavyweight, any wild move in Reliance can impact the Nifty. Therefore, it is advised to trade cautiously in such circumstances.
Infosys and Reliance Demerger today both indea heavyweight can lead to wild swings in the market so trade cautiously on levels mentioned. Reliance will start trading after 10 AM IST.
Nifty Trade Plan  Bulls will get active above 19856 for a move towards 19920/20000. Bears will get active below 19729 for a move towards 19666/19610/19525
Nifty is near a crucial gann number of 19683 last time this number was at 19576 price did not close below this and gave a big rally, Next 2-3 days price action near 19683 is very important able to hold we can see rally towards 19881/20000. Break of 19600 fall towards 19410 in short term.
Traders may watch out for potential intraday reversals at 9:19,10:41,1:04,1:49,2:44  How to Find and Trade Intraday Reversal Times
Nifty July Futures Open Interest Volume stood at 1.04 lakh, witnessing a liquidation of 3.3  lakh contracts. Additionally, the increase in Cost of Carry implies that there was a covering of LONG positions today.
Nifty Advance Decline Ratio at 20:30  and Nifty Rollover Cost is @18884  and Rollover is at 69.7 %.
Nifty options chain shows that the maximum pain point is at 19800 and the put-call ratio (PCR) is at 0.99. Typically, when the PCR open interest ranges between 0.90 and 1.05, the market tends to remain range-bound.
Nifty 50 Options Chain Analysis
The Nifty 50 options chain indicates that the highest open interest (OI) on the call side is at the 19800 strike, followed by 19900 strikes. On the put side, the highest OI is at the 19700 strike, followed by 19600  strikes. This suggests that the market participants are expecting Nifty 50 to remain range between 19700-19900 levels.
According To Todays Data, Retailers Have bought 395 K Call Option Contracts And 480 K Call Option Contracts Were Shorted by them. Additionally, bought 928 K Put Option Contracts And 685 K Put Option Contracts were Shorted by them, Indicating A Bullish Outlook.
In Contrast, Foreign Institutional Investors (FIIs) bought 68.3 K Call Option Contracts And 31.2 K Call Option Contracts Were Shorted by them. On The Put Side, FIIs bought 90 K Put Option Contracts And 119 K Put Option Contracts were Shorted by them, Suggesting They Have Turned To A BULLISH Bias.
In the cash segment, Foreign Institutional Investors (FII) bought 1165 crores, while Domestic Institutional Investors (DII) sold 2134 crores.
Traders who follow the musical octave trading path may find valuable insights in predicting Nifty's movements. According to this path, Nifty may follow a path of 18890-19452-20014 This means that traders can take a position and potentially ride the move as Nifty moves through these levels.Of course, it's important to keep in mind that trading is inherently risky and market movements can be unpredictable.Price has closed above 19452.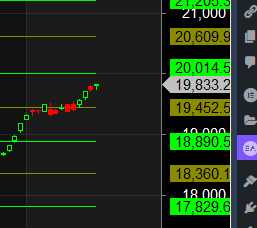 There are two parts to proper preparation for us: 1) the preparation necessary before the Bell rings, and 2) the specific trading information you must obtain before you can make a trade.
For Positional Traders, The Nifty Futures' Trend Change Level is At 19484 . Going Long Or Short Above Or Below This Level Can Help Them Stay On The Same Side As Institutions, With A Higher Risk-reward Ratio. Intraday Traders Can Keep An Eye On 19807 , Which Acts As An Intraday Trend Change Level.
Intraday Trading Levels
Buy Above 19856  Tgt 19899, 19925  and 19953  (Nifty Spot Levels)
Sell Below 19800 Tgt 19775, 19729 and 19685  (Nifty Spot Levels)
Upper End of Expiry : 19953
Lower End of Expiry : 19712
Wishing you good health and trading success as always.As always, prioritize your health and trade with caution.