Last Week we gave Chopad Level of 18607 Bulls got Stopped out and Bears did 1 target on downside  . It was an Average week for Chopad followers. Coming Week we have we have Multiple Astro Date coming involving Outer Plannet as discussed below
Mercury Conjunct Uranus
FULL MOON
Venus Ingress
"Bayer Rule 14: VENUS MOVEMENTS IN GEOCENTRIC LONGITUDE USING A UNIT OF 1*9'13""
"Bayer Rule 2: Trend goes down within 3 days when the speed difference between Mars and Mercury is 59 minutes. Leads to Big Move "
Astro analysis can help identify trends and reversals in the market, and it can be used in combination with other technical analysis methods to improve the accuracy of trading strategies. Gann analysis involves studying charts and identifying support and resistance levels to pinpoint potential trading opportunities.
Nifty Harmonic Pattern
Price has completed 89.1% retraceemnt Unable to cross 18700 downtrend can start towards 18200/18000.
Nifty Gann Angles
Price has moved from 1×5 gann angle heading  towards 1×3
Planetary Cycles and Nifty Movements
Price broken the resistance zone of Mercury Plannetary line.
Nifty Supply and Demand

Self Explanatory Chart
Nifty Time Analysis Pressure Dates
05/07 JUne  is the Important Gann/Astro Date for coming week.
Nifty Weekly Chart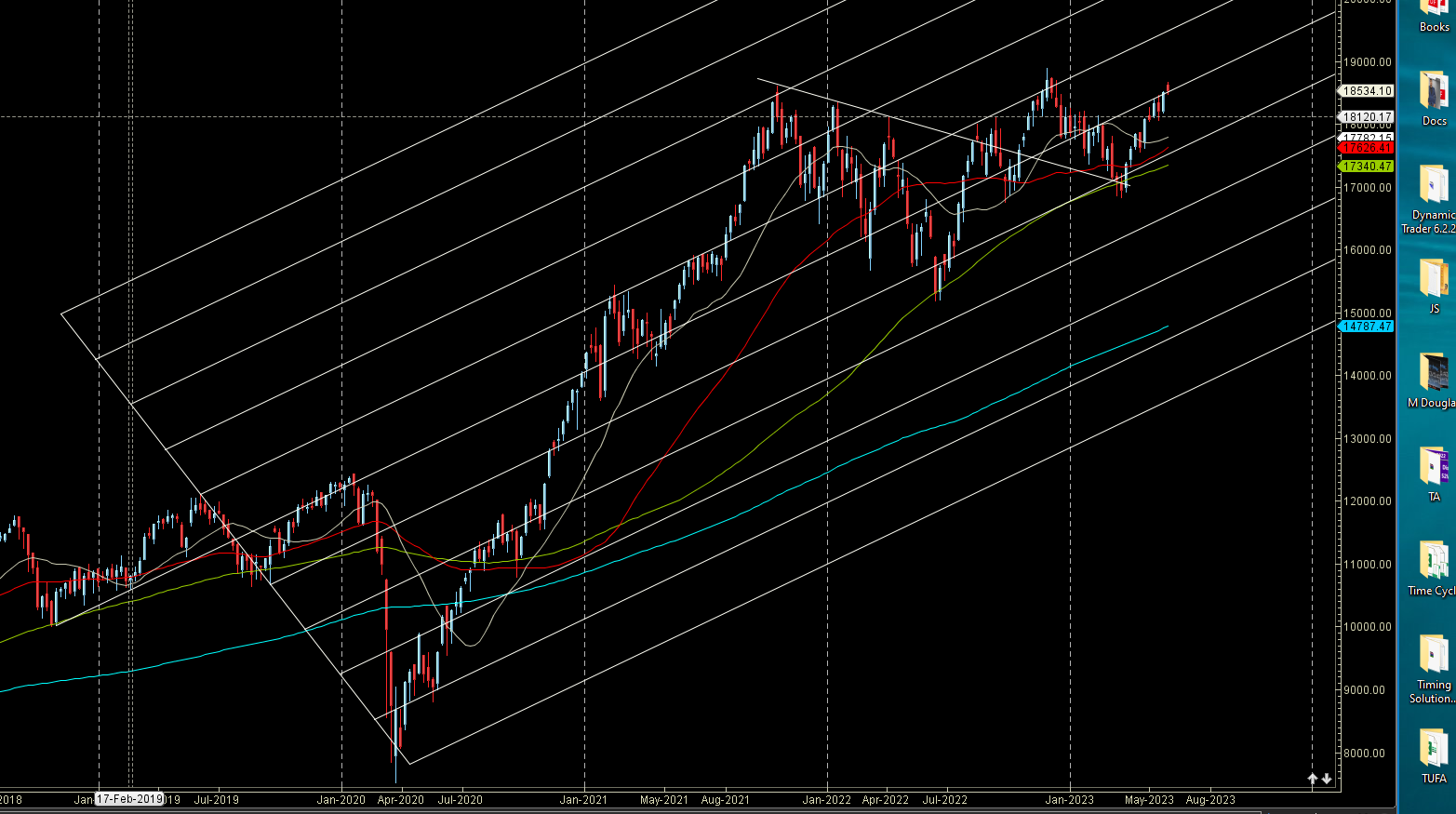 Price is near resistance zone on Weekly Chart and formed a Weekly NR7 Pattern.
Nifty Monthly Charts

18639 is Monthly Resistnace zone 18341 is Support zone. 
Nifty Weekly Chopad Levels
Nifty Trend Deciding Level: 18607
Nifty Resistance: 18674,18742,18807,18888
Nifty Support: 18512,18440,18372,18304,18236
Levels mentioned are Nifty Spot
As always I wish you maximum health and trading success