FII sold26.8  K contract of Index Future worth  2464 cores, Net OI has increased by 30.5 K contract 1.8 Long contract were added by FII and 28.7 K Shorts were covered by FII. Net FII Long Short ratio at 0.1 so FII used rise to
exit  Long and enter  short in Index Futures.
Nifty will open gap down again as Adani FPO got cancelled it will hit sentiment badly. Adani Bonds are trading at Junk Status. How time changes in matter of days. Coming Back to Nifty 17290 is 200 DMA, which can act as minor support. Breaking the same can be a fast fall towards 17000 in short term. On upside Bulls will get respite once Index start trading above 17678. Moves will be very fast and swift today.
Bank Nifty did not break the budget day low and closed near the budget day close of 17616 . Range of  17576-17616 is dicey range. CLosing above and below will give clear direction, Mercury Extreme Declination tommrow so first 15 mins High and low will guide.
Fall in Adani Stocks has hit the sentiment of PSU Banks but this might be few days of drama and things will be back to normal. Stock Market work on perception and it can change in matter of days. Only thing that can change is that "Strong hands" finding value and picks up deliveries which will definitely reflect in prices. There again, they can pick up deliveries at leisure..no need to panic with throw away or thrown down prices.
MAX Pain is at 17600 PCR at 0.98 Markets tend be range-bound when PCR OI (Open Interest) ranges between 0.90 and 1.05. 
Maximum Call open interest of 30 lakh contracts was seen at 17700 strike, which will act as a crucial resistance level and Maximum PUT open interest of 20 lakh contracts was seen at 17300 strike, which will act as a crucial Support level
Nifty Feb Future Open Interest Volume is at  1.07 Cr with addition of 2.8 Lakh with increase in Cost of Carry suggesting Long positions were added today.
Nifty Rollover cost @18169 and Rollover % @75  Closed below it. 
Nifty Bulls now need to move above 17700 for trend to change
FII's sold 3065 cores and DII's bought  2371 cores in cash segment.INR closed at 81.60
#NIFTY50  as per musical octave trading path can be 17274-17538-17804 take the side and ride the move !!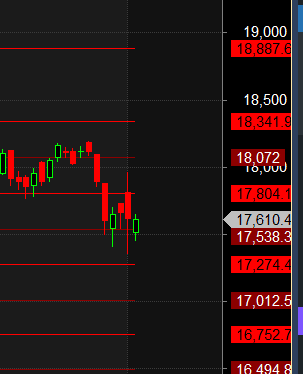 No amount of study or practice can make one successful in the handling of capital if one really is not cut out for it.
Positional Traders Trend Change Level is 17779 on Futures go long and short above/below it That will help you stay on the side of Institutions and which has a greater risk-reward ratio. Intraday Traders 17642 will act as a Intraday Trend Change Level.
Intraday Trading Levels
Buy Above 17656 Tgt 17699, 17729  and 17777 (Nifty Spot Levels)
Sell Below 17590 Tgt 17555, 17512 and 17470 (Nifty Spot Levels)
As always I wish you maximum health and trading success