FII sold 5.7 K contract of Index Future worth  555 cores, Net OI has increased by 407 contract 2.6 K Long contract were covered by FII and 3 K Shorts were covered by FII. Net FII Long Short ratio at 0.62 so FII used fall to exit Long and enter short in Index Futures.
We have 3 Important Astro event today  as discussed in below video
Bayer Rule 27: Big tops and big major bottoms are when Mercury's speed in Geocentric longitude is 59 minutes or 1 degree 58 minutes.

Venus Square North Node

Mars is turning Direct
First 15 mins HIgh and Low based on Intraday Ratio Indicator can guide for the day.
Today again we have Multiple Declination of Jupiter and Moon combined with Gann Date and also Mars Declination tommrow as discussed in below video. Multiple Doji are formed in NIfty at Octave Point so should see trending move as Multiple Astro and Gann Events are confluencing.
For Swing Traders Bulls need to move above 17974 for a move towards 18040/ 18107/18174/18240. Bears will get active below 17804 for a move towards 17737/17670/17602
NIfty is stuck in range of its 50/100 DMA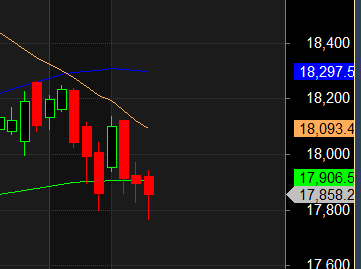 MAX Pain is at 17900 PCR at 0.95 Markets tend be range-bound when PCR OI (Open Interest) ranges between 0.90 and 1.05. 
Maximum Call open interest of 22 lakh contracts was seen at 18000 strike, which will act as a crucial resistance level and Maximum PUT open interest of 22 lakh contracts was seen at 17800 strike, which will act as a crucial Support level
Nifty Jan Future Open Interest Volume is at  1.16  Cr with addition of 1.63 Lakh with increase in Cost of Carry suggesting Long positions were addded today.
Nifty Rollover cost @18178 and Rollover % @72.5  Closed below it. 
Nifty has again bounced from 50% point now need close above 18066 for trend to change from SELL of RISE to BUY on DIPS.
FII's sold 1662 cores and DII's bought 2127 cores in cash segment.INR closed at 81.65
#NIFTY50  as per musical octave trading path can be 17538-17804-18072 take the side and ride the move !!
One of the reason why beginners trader blow up their trading account and have to leave trading forever is that they are extremely undercapitalized. They are forced out due to market noise
Positional Traders Trend Change Level is 18113 on Futures go long and short above/below it That will help you stay on the side of Institutions and which has a greater risk-reward ratio. Intraday Traders 17908  will act as a Intraday Trend Change Level.
Intraday Trading Levels
Buy Above 17888 Tgt 17920, 17950 and 17998 (Nifty Spot Levels)
Sell Below 17824 Tgt 17800, 17777 and 17729 (Nifty Spot Levels)
As always I wish you maximum health and trading success