FII sold 27.5 K contract of Index Future worth  2604 cores, Net OI has increased by 16.5 K contract 5.4 K Long contract were added by FII and 22 K Shorts were added by FII. Net FII Long Short ratio at 0.56 so FII used fall to exit Long and enter short in Index Futures.
Price has been struglling to cross the gann angle at 18255, once crossed and sustained will lead to impulsive move. High made was 18243 so bulls unable to cross 18255 and Bears took upperhand. Tommrow SUN Trine Uranus is very important for World Indices, so we can see sharp reversal if we close above 9:30 High. First 15 mins High and Low will guide for Intraday.
Bears will get active below 18066 for a move towards 18022/17957/17893. — Bears were able to do 18022, Till Nifty is below 18066 target are 17957/17893. Bulls will get active above 18130 for a move towards 18197/18265.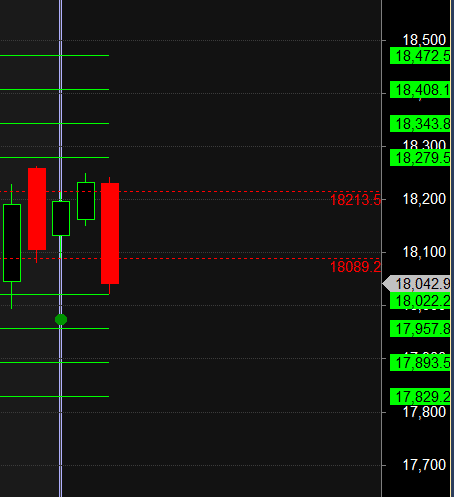 MAX Pain is at 18100 PCR at 1.05 Markets tend be range-bound when PCR OI (Open Interest) ranges between 0.90 and 1.05. 
Maximum Call open interest of 32 lakh contracts was seen at 18200 strike, which will act as a crucial resistance level and Maximum PUT open interest of 32 lakh contracts was seen at 18000 strike, which will act as a crucial Support level
Retailers have bought 199 K CE contracts and 153 K CE contracts were shorted by them on Put Side Retailers sold 247 K PE contracts and 87 K PE shorted contracts were added by them suggesting having NEUTRAL outlook.
FII bought 46.5 K CE contracts and 134 CE were shorted by them, On Put side FII's bought 71.7 K PE and 11 K PE were shorted by them suggesting they have a turned to BEARISH Bias.
Nifty Jan Future Open Interest Volume is at  1.11 Cr with addition of 1.9 Lakh with increase in Cost of Carry suggesting Long positions were added today.
Nifty Rollover cost @18178 and Rollover % @72.5  Closed below it. 
Nifty Bulls need to move above 18074 for a move towards 18136/18240
FII's sold 2620 cores and DII's bought 773 cores in cash segment.INR closed at 81.90
#NIFTY50  as per musical octave trading path can be 17799-18066-18336 take the side and ride the move !!
The market works on probability as it is a confluence of all trader activity. So when the probability is tilted on one side, you will see action on that side. When there is pressure on the opposite side, the movement happens accordingly.
Positional Traders Trend Change Level is 18228 on Futures go long and short above/below it That will help you stay on the side of Institutions and which has a greater risk-reward ratio. Intraday Traders 18166 will act as a Intraday Trend Change Level.
Intraday Trading Levels
Buy Above 18072 Tgt 18102, 18131 and 18166 (Nifty Spot Levels)
Sell Below 18000 Tgt 17961, 17930 and 17900 (Nifty Spot Levels)
Upper End of Expiry : 18192
Lower End of Expiry : 17891
As always I wish you maximum health and trading success