FII sold 12.5 K contract of Index Future worth  1281 cores, Net OI has increased by 1.4 K contract 5.5 K Long contract were covered by FII and 6.9 K Shorts were covered by FII. Net FII Long Short ratio at 1.39 so FII used fall to exit Long and exit short in Index Futures.
Nifty saw a decent decline in intraday and saw a swift recovery also, a typical charecterstic of Neptune plannet (This planet can be tricky and must be watched carefully). Price for 2 day has closed below gann angle. Today Mars is going in extreme declination. Mars Plannet  adds energy to the trading of a stock and generally leads to trending move. 
2017 Guj Election we have seen a massive volatialty at opening gap down and quick reovery. Be prepared for it as Gann told History repeat by itslef. Tommrow we also have New Moon first 15 mins HIgh and low will guide for the day.
For Swing Trade Bulls need to move above 18612 for a move towards 18681/18750/18818 . Bears will get active below 18544 for a move towards 18475/18406/18337
MAX Pain is at 18500 PCR at 0.88  PCR below 0.78 and above 1.3 lead to trending moves, and in between leads to range bound markets.
Maximum Call open interest of 42 lakh contracts was seen at 18600 strike, which will act as a crucial resistance level and Maximum PUT open interest of 45 lakh contracts was seen at 18400 strike, which will act as a crucial Support level
Nifty Dec Future Open Interest Volume is at  1.11 Cr with addition of 0.73 Lakh with increase in Cost of Carry suggesting short positions were added today.
Nifty Rollover cost @18392 and Rollover % @75.1 Closed above it. 
Till Nifty is below 18631 on closing basis  Bears will have upper hand.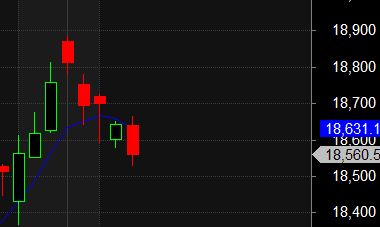 Retailers have bought 778  K CE contracts and 612 K CE contracts were shorted by them on Put Side Retailers bought 115 K PE contracts and 122 K PE shorted contracts were added by them suggesting having BULLISH outlook.
FII bought 45.7 K CE contracts and 68.4 K CE were shorted by them, On Put side FII's bought 9.5 K PE and 403 PE were shorted by them suggesting they have a turned to NEUTRAL Bias.
FII's sold 1241 cores and DII's bought 388 cores in cash segment.INR closed at 81.16
#NIFTY50  as per musical octave trading path can be 18058-18595-19132  take the side and ride the move !!
One of the main reason why technical analysis works is that human nature and emotions remain the same irrespective of era one is in. People were greedy and fearful even a hundred years back as much as they are now.
Positional Traders Trend Change Level is 18741 on Futures go long and short above/below it That will help you stay on the side of Institutions and which has a greater risk-reward ratio. Intraday Traders 18701 will act as a Intraday Trend Change Level.
Intraday Trading Levels
Buy Above 18600 Tgt 18636,18672 and 18696 (Nifty Spot Levels)
Sell Below 18525 Tgt 18503, 18470 and 18444 (Nifty Spot Levels)
Upper End of Expiry : 18696
Lower End of Expiry : 18423
As always I wish you maximum health and trading success