FII sold 5.7 K contract of Index Future worth  526 cores, Net OI has decreased by 8.4 K contract 7 K Long contract were covered by FII and 1.3 K Shorts were covered by FII. Net FII Long Short ratio at 3 so FII used rise to enter exit and exit short in Index Futures.
Tommorow we have important bayers rule coming into effect so first 15 mins High and Low will guide for Intraday. — 15 Mins HIgh was not broken
Bayer Rule 30: The trend changes when Venus in declination passes the extreme declination of the Sun.–Today we will see Impact of Bayers Rule.
For Swing Trade Bulls need to move above 18687 for a move towards 18766/18813/18859/18892 . Bears will get active below 18542 for a move towards 18463/18416/18370/18337. — 3 Target done.
For Swing Trade Bulls need to move above 18897 for a move towards 18966/19007/19048/19117 . Bears will get active below 18768 for a move towards 18699/18658/18617/18589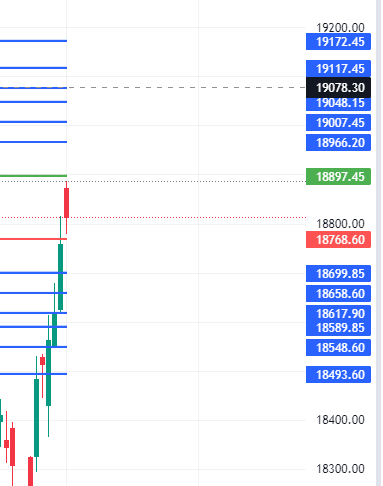 Intraday time for reversal can be at 10:23/11:38/12:39/1:50/2:29  How to Find and Trade Intraday Reversal Times
MAX Pain is at 18800 PCR at 0.88  PCR below 0.78 and above 1.3 lead to trending moves, and in between leads to range bound markets.
Maximum Call open interest of 12 lakh contracts was seen at 18800 strike, which will act as a crucial resistance level and Maximum PUT open interest of 15 lakh contracts was seen at 18600 strike, which will act as a crucial Support level
Nifty Dec Future Open Interest Volume is at  1.23 Cr with liquidation of 0.32  Lakh with increase in Cost of Carry suggesting Long positions were closed today. NIfty Future is in 136 points premium to Spot.
Nifty Rollover cost @18392 and Rollover % @75.1 Closed above it. 
Till Nifty is above 18634 on closing basis  Bulls will have upper hand.
FII's sold 1565 cores and DII's bought 2664 cores in cash segment.INR closed at 81.16
#NIFTY50  as per musical octave trading path can be 18058-18595-19132  take the side and ride the move !! — 18595 done
LEARN TO EXECUTE ORDERS QUICKLY. Practice your execution skills daily. Create speed drills for yourself, Being fast and light is an advantage that the intraday trader must learn to exploit. We can go from long to short very quickly and easily.
Positional Traders Trend Change Level is 18727 on Futures go long and short above/below it That will help you stay on the side of Institutions and which has a greater risk-reward ratio. Intraday Traders 18953 will act as a Intraday Trend Change Level.
Intraday Trading Levels
Buy Above 18832 Tgt 18864 18900 and 18935 (Nifty Spot Levels)
Sell Below 18764 Tgt 18729, 18699 and 18666 (Nifty Spot Levels)
As always I wish you maximum health and trading success