FII boughr 4.2  K contract of Index Future worth 405 cores, Net OI has increased by 2.1 K contract 3.1 K Long contract were added by FII and 1 K Shorts were covered by FII. Net FII Long Short ratio at 1.39 so FII used rise to enter long and exit short in Index Futures.
We have seen Blood Moon Yesterday, Moon Eclipse has a good Impact of BankNIfty and NIfty as discussed in below video.
Lunar eclipses occur when the Moon is on the far side of the Earth from the Sun. Lunar eclipses only occur at a Full Moon event.
We have multiple astro events today so irst 15 mins High and Low will decide the trend of the day. Nifty has been moving in gaps and its better to aviod shorting till we do not close below 18199 levels, Use Dips tp Buy
Nifty made a high of 18296 but still unable to move above Jan high of 18351,Nifty was unable to break first 15 mins High and saw a small breakdown on Intraday, Tommrow we have important CPI data in Evening which will decide the trend of Dollar Index and hence world market. They way Crypto's are crashing it seems Equity is safe heaven now.  With Goverment Selling SUUTI Stake in Axis Bank at 830  via OFS we can see pressure in Bank Nifty so Nifty IT Index should come as Support.
Nifty Swing Trade Plan based on Todays High and Low
For Swing Traders Bulls will get active above 18305 for a move towards 18417/18484/18550. Bears will get active below 18107 for a move towards 17996/17928/17862
Intraday time for reversal can be at 9:17/12:21/1:24/2:04   How to Find and Trade Intraday Reversal Times
MAX Pain is at 18200 PCR at 0.81  PCR below 0.78 and above 1.3 lead to trending moves, and in between leads to range bound markets.
Maximum Call open interest of 32 lakh contracts was seen at 18300 strike, which will act as a crucial resistance level and Maximum PUT open interest of 25 lakh contracts was seen at 18100 strike, which will act as a crucial Support level
Nifty Nov Future Open Interest Volume is at  1.20 Cr with addition of 6.1 Lakh with decrease in cost of carry suggesting Long positions were added today.
Retailers have bought 754 K CE contracts and 633 K CE contracts were shorted by them on Put Side Retailers bought 234 K PE contracts and 284 K PE shorted contracts were added by them suggesting having BULLISH outlook.
FII bought 72 K CE contracts and 91.4 K CE were shorted by them, On Put side FII's bought 70.8  K PE and 7.9 K PE were shorted by them suggesting they have a turned to Bearish Bias.
NIfty Rollover cost @ 17732 and Rollover is at 70.5 % closed above it.
FII's bought 386 cores and DII's sold 1060 cores in cash segment.INR closed at 82.46
#NIFTY50  as per musical octave trading path can be 17551-18058-18595  take the side and ride the move !! 2 days in a row closed above 18058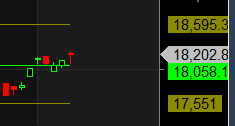 Profitable Trading : A Trading Strategy With An Edge (positive expectancy) + The Ability To Be Able To Consistently Apply The Strategy
Positional Traders Trend Change Level is 18073 on Futures go long and short above/below it That will help you stay on the side of Institutions and which has a greater risk-reward ratio. Intraday Traders 18260 will act as a Intraday Trend Change Level.
Intraday Trading Levels
Buy Above 18175 Tgt 18200, 18225 and 18256 (Nifty Spot Levels)
Sell Below 18108 Tgt 18084, 18044 and 18011 (Nifty Spot Levels)
Upper End of Expiry : 18341
Lower End of Expiry : 18038
As always I wish you maximum health and trading success