FII bought 9.9 K  contract of Index Future worth 929 cores, Net OI has decreased by 1.7 K contract 4.1 K Long contract were added by FII and 5.8 K Shorts were covered by FII. Net FII Long Short ratio at 0.34 so FII used rise to enter long and exit short in Index Futures.
As Discussed in Last Analysis  Nifty saw profit booking from higher level, Now next week will be very crucial as per below video Swing Trade Plan is Bullish above 17860 for a move towards 17925/18000/18067 , Bears will get active below 17785 for a move towards 17725/17658/17591. Bulls were able to close above 17860 now waiting for 17925/18000/18067. Bears will have chance below 17958 for a move towards 17891/17825/17758
Till we do not close below Friday Low of 17785 do not short the market aggressively. Mercury Retrograde can lead to impulsive move on upside.
Intraday time for reversal can be at 09:48/10:37/11:20/12:29/1:32/2:33 How to Find and Trade Intraday Reversal Times
MAX Pain is at 18000 PCR at 0.81 PCR below 0.85 and above 1.3 lead to trending moves, and in between leads to range bound markets.
Maximum Call open interest of 35 lakh contracts was seen at 18050 strike, which will act as a crucial resistance level and Maximum PUT open interest of 45 lakh contracts was seen at 17800 strike, which will act as a crucial Support level
Nifty Sep Future Open Interest Volume is at 1.25 Cores with liquidation of 1.94 Lakh with increase in cost of carry suggesting Long positions were closed today.
Nifty rollover cost @ 17655 and Rollover @76.6 % Closed above the rollover level suggesting bias is Bullish
FII bought 31.5 K CE and 1.4 K CE were shorted by them. FII bought 14.5 K PE and 24.4 K PE were shorted by them. Bias Bullish , 10701  cr of options are bought by FII so be ready for big move.
Retailers bought 244   K CE and 274 K CE were shorted by them. Retailers bought 533 K PE and 441 K PE were shorted by them. Bias Bearish
FII's bought 2049  cores and DII's sold 890 cores in cash segment.INR closed at 79.62
#NIFTY50 READY for another 500 points move as per musical octave 18058- 17551-17044 take the side and ride the move !!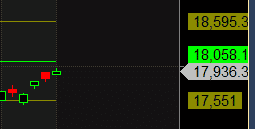 Good risk management decreases the amount of your draw downs which makes trading a much easier proposition. Consistently growing capital is a much more pleasant process when you are not trying to come back from 25%-50% draw downs, trust me on this, been there done that.
Positional Traders Trend Change Level is 17684  on Futures go long and short above/below it That will help you stay on the side of Institutions and which has a greater risk-reward ratio. Intraday Traders 17970 will act as a Intraday Trend Change Level.
Intraday Trading Levels
Buy Above 18026 Tgt 18073, 18100 and 18125 (Nifty Spot Levels)
Sell Below 17935 Tgt 17900 , 17864 and 17824 (Nifty Spot Levels)
As always I wish you maximum health and trading success