FII bought 31.3 K  contract of Index Future worth 2936 cores, Net OI has decreased by 18.6 K contract 6.3 K Long contract were added by FII and 25 K Shorts were covered by FII. Net FII Long Short ratio at 0.53 so FII used rise to enter long and exit short in Index Futures.
As Discussed in Last Analysis Bulls were able to close above 17860 now waiting for 17925/18000/18067. Bears will have chance below 17958 for a move towards 17891/17825/17758. All Target are done. We might open gap down tommrow tracking global cues but trend remains up till we are holding 17992 . Bears will have chance below 17958 for a move towards 17891/17825/17758.
Tommrow we have important Bayers Rule "Bayer Rule 2: Trend goes down within 3 days when the speed difference between Mars and Mercury is 59 minutes. Leads to Big Move " and also Mercury Conjunct Saturn HELIO suggesting first 15 mins High and low will guide for the day.
Intraday time for reversal can be at 9:51/10:33/11:55/12:29/1:28/2:23 How to Find and Trade Intraday Reversal Times
MAX Pain is at 18000 PCR at 0.81 PCR below 0.85 and above 1.3 lead to trending moves, and in between leads to range bound markets.
Maximum Call open interest of 35 lakh contracts was seen at 18050 strike, which will act as a crucial resistance level and Maximum PUT open interest of 45 lakh contracts was seen at 17800 strike, which will act as a crucial Support level
Nifty Sep Future Open Interest Volume is at 1.26 Cores with liquidation of 2.4 Lakh with increase in cost of carry suggesting Long positions were closed today.
Nifty rollover cost @ 17655 and Rollover @76.6 % Closed above the rollover level suggesting bias is Bullish
FII sold 4.4 K CE and 37.2 K shorted CE were covered by them. FII sold 2.1 K PE and 41.6 K PE were shorted by them. Bias Bullish.
Retailers sold 183 K CE and 121 K CE were shorted by them. Retailers bought 387 K PE and 229 K PE were shorted by them. Bias Bearish
FII's bought 1956 cores and DII's sold 1268 cores in cash segment.INR closed at 79.42
#NIFTY50 READY for another 500 points move as per musical octave 18058- 17551-17044 take the side and ride the move !!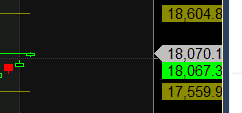 Your risk-adjusted return is more important than your gross P&L. You shouldn't try to make 5K a day by losing 5K. You shouldn't do this after 10 years and you certainly shouldn't do this when you start.
Positional Traders Trend Change Level is 18089 on Futures go long and short above/below it That will help you stay on the side of Institutions and which has a greater risk-reward ratio. Intraday Traders 17715 will act as a Intraday Trend Change Level.
Intraday Trading Levels
Buy Above 18000 Tgt 18040, 18088 and 18125 (Nifty Spot Levels)
Sell Below 17935 Tgt 17900 , 17864 and 17824 (Nifty Spot Levels)
As always I wish you maximum health and trading success