FII bought 9.1 K contract of Index Future worth 853 cores, Net OI has increased by 4.1 K contract 6.6 K Long contract were added  by FII and 2.4 K Shorts were covered by FII. Net FII Long Short ratio at 0.30 so FII used rise to enter long and exit short in Index Futures.
As Discussed in Last Analysis  We have important Aspect tommrow of Moon and Saturn as discussed in below video. First 15 Mins HIgh and Low should decide the trend of the market. Swing Trade Plan is Bullish above 17656 for a move towards 17723/17791/17858, Bears will get active below 17589 for a move towards 17522/17455. We got big move and nifty did 2 target on upside after gap up  , Tommrow we have mercury retrograde as shown in below video so time to be cautious on longs as it lead to trend reversal. Swing Trade Plan is Bullish above 17814 for a move towards 1781/17947/18013, Bears will get active below 17777 for a move towards 17682/17616.
When a planet is retrograde, it appears to be standing still momentarily from the viewpoint of an observer situated on planet Earth. Although orbiting planets never stand still, when a planet is retrograde it is as if two vehicles are moving in the same direction and one vehicle passes the other. As the faster vehicle (faster orbiting planet) passes the slower vehicle (slower orbiting planet), for a brief moment in time it appears as though the slower vehicle (slower orbiting planet) is moving backwards. Of course it is not really moving backwards, the effect is purely illusory. Mercury retrograde events (although not frequent) are often associated with significant market highs and lows. Life time High of Nifty on 19 October also happened on Mercury retrograde
Intraday time for reversal can be at 10:04/10:54/11:51/12:34/1:50/2:33 How to Find and Trade Intraday Reversal Times
MAX Pain is at 17800 PCR at 0.81 PCR below 0.85 and above 1.3 lead to trending moves, and in between leads to range bound markets.
Maximum Call open interest of 25 lakh contracts was seen at 18000 strike, which will act as a crucial resistance level and Maximum PUT open interest of 35 lakh contracts was seen at 17500 strike, which will act as a crucial Support level
Nifty Sep Future Open Interest Volume is at 1.27 Cores with liquidation of 0.48 Lakh with increase in cost of carry suggesting Long positions were closed today.
Nifty rollover cost @ 17655 and Rollover @76.6 % Closed above the rollover level suggesting bias is Bullish
FII's bought 2913 cores and DII's sold 212 cores in cash segment.INR closed at 80.06
#NIFTY50 READY for another 500 points move as per musical octave 18058- 17551-17044 take the side and ride the move !!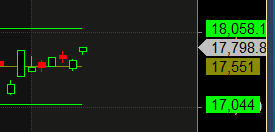 "Let the market tell you what you are going to make. Anytime you say 'I have to…' you're in for potential trouble. Remember: The market doesn't care about you."
Positional Traders Trend Change Level is 17635  on Futures go long and short above/below it That will help you stay on the side of Institutions and which has a greater risk-reward ratio. Intraday Traders 17779 will act as a Intraday Trend Change Level.
Buy Above 17814 Tgt 17840, 17881 and 17920 (Nifty Spot Levels)
Sell Below 17777 Tgt 17749, 17721 and 17700 (Nifty Spot Levels)
As always I wish you maximum health and trading success