FII sold 6 K  contract of Index Future worth 575 cores, Net OI has decreased by 4.2 K contract 5.1 K Long contract were covered by FII and 876 Shorts were added  by FII. Net FII Long Short ratio at 1.22 so FII used rise to enter long and exit short in Index Futures.
As discussed in Last Analysis  Low made was 17215 below 17261 and Till 17200-17215 is held bulls are in control we have seen voaltile move today as per astro, For Swing traders bulls need a move above 17344 for a move towards 17409/17474/17540 .Bears will get active below 17261 for a move towards 17213/17148/17083. Bears got whipsawed below 17261, Bulls were able to do 1 target on upside and now waiting for 17474/17540. Low made today was 17225 so bulls are holding range of 17200-17215. Bears will get active below 17341 for a move towards 17275/17209.Tommrow we have Mercury Ingress so first 15 mins High and Low can guide us for the day.
Intraday time for reversal can be at  9:29/10:26/11:39/12:32/1:52/2:46     How to Find and Trade Intraday Reversal Times
MAX Pain is at 17300 PCR at 0.93 PCR below 0.87 and above 1.3 lead to trending moves, and in between leads to range bound markets.
Nifty Aug Future Open Interest Volume is at 0.98 Cores with liquidation of 5.3 Lakh with increase in cost of carry suggesting Long positions were clsoed today.
Nifty rollover cost @ 16670 and Rollover @67.7 % Closed above the rollover level suggesting bias is Bullish
Maximum Call open interest of 85 lakh contracts was seen at 17500 strike, which will act as a crucial resistance level and Maximum PUT open interest of 71 lakh contracts was seen at 17300 strike, which will act as a crucial Support level. There is total OI of 11.2 Cr on the Call side and 14.2 Cr on the Put side. So, the activity is more on PUT side indicating Option Writers are having BULLISH Bias.
Jupiter Retrograde will end of 23 Novemeber so High 16947 and Low of 16746 will be valid till 23 November, Break of ANy side will lead to minimum 555 points move. 
FII's bought 765 cores and DII's sold 518 cores in cash segment.INR closed at 79.30
Retailers have bought 414   K CE contracts and 378 K CE contracts were shorted by them on Put Side Retailers bought 248 K PE contracts and 172 K PE shorted contracts were added by them suggesting having BEARISH outlook,On Flip Side FII bought 4.7 K CE contracts and 36.7 K CE were shorted by them, On Put side FII's sold 8.7 K PE and 3.5 K PE were shorted by them suggesting they have a turned to neutral Bias.
#NIFTY50 READY for another 500 points move in next 4 trading session as per musical octave 16108-16573-17066 take the side and ride the move !! — 17162 done today now waiting for 17559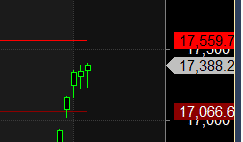 Profitable trader, must sit and process the data the market offers with an open mind. Too many traders color the data the market offers with their own biases.
For
Positional Traders
Stay long till we are holding Trend Change Level
17203
and stay short below it. That will help you stay on the side of Institutions and which has a greater risk-reward ratio. For Intraday Traders
17331
will act as a
Intraday Trend Change Level.
Buy Above 17424 Tgt 17455, 17484 and 17525 (Nifty Spot Levels)
Sell Below 17364 Tgt 17340, 17316 and 17275 (Nifty Spot Levels)
Upper End of Expiry : 17575
Lower End of Expiry : 17238
As always I wish you maximum health and trading success