FII bought 8.9  K  contract of Index Future worth 743 cores, Net OI has decreased by 8 K contract 466 Long contract were added by FII and 8.5 K Shorts were covered by FII. Net FII Long Short ratio at 0.37 so FII used rise to enter long and exit short in Index Futures.
As Discussed in Last Analysis   We are up 400 points once Bayer Rule 27: Big tops and big major bottoms are when Mercury's speed in Geocentric longitude is 59 minutes or 1 degree 58 minutes high of 15852 thats how astro works .Bulls were able to close above 16115 now waiting for target of 16178/16240/16303. Bears will get active below 16098 for a move towards 16005/15954. 2 target done and we have seen side ways move as next important astro date is on 12-13 July so monday can be also sideways day. Bulls were able to close above 16236 now waiting for target of 16299/16362/16426. Bears will get active below 16172 for a move towards 16108/16046.
Intraday time for reversal can be at 9:28/10:33/11:48/12:09/1:48/2:50   How to Find and Trade Intraday Reversal Times
MAX Pain is at 16200 PCR at 0.97 PCR below 0.87 and above 1.3 lead to trending moves, and in between leads to range bound markets.
Nifty July Future Open Interest Volume is at 1.08 Cores with liqudidation of 6.9 Lakh with decrease in cost of carry suggesting Long positions were closed today.
Nifty rollover cost @ 15801  and Rollover @66.1 % Closed above the rollover level suggesting bias is Bullish
Maximum Call open interest of 34 lakh contracts was seen at 16300 strike, which will act as a crucial resistance level and Maximum PUT open interest of 34 lakh contracts was seen at 16000 strike, which will act as a crucial Support level. There is total OI of 6.2 Cr on the Call side and 7.2 Cr on the Put side. So, the activity is more on PUT side indicating Option Writers are having BULLISH Bias.
FII's sold 109 cores and DII's bought 34 cores in cash segment.INR closed at 79.40
Retail Traders Lose Money By Looking For A Trending Move In Non-trending Environments And Staying Out In Trending Environments.
As per Musical Octave  Above 15642 Rally towards 16108. 16108 done now till we are holding 16108 rally towards 16573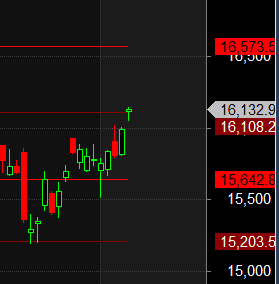 Retailers have bought 550 K CE contracts and 551 K CE contracts were shorted by them on Put Side Retailers bought 554 K PE contracts and 535 K PE shorted contracts were added by them suggesting having Neutral outlook,On Flip Side FII bought 27.2 K CE contracts and 10.6 K CE were shorted by them, On Put side FII's bought 11.8 K PE and 16.3 K PE were shorted by them suggesting they have a turned to neutral Bias.
 If your goal is to become an elite trader, then your time is a very valuable commodity. It is the most important commodity that you have. Use it wisely. Act in your self interest. Be focused on all things becoming a better trader.
For Positional Traders Stay long till we are holding Trend Change Level 15902  and stay short below it. That will help you stay on the side of Institutions and which has a greater risk-reward ratio. For Intraday Traders 16205 will act as a Intraday Trend Change Level.
If a trader is confused about what he is doing, the probable win ratio is zero and he might as well give up trading.
Buy Above 16225 Tgt 16250, 16278 and 16312 (Nifty Spot Levels)
Sell Below 16200 Tgt 16175, 16150 and 16125 (Nifty Spot Levels)
As always I wish you maximum health and trading success