FII sold 22.5 K contract of Index Future worth 17999 cores, Net OI has decreased by 8.8 K contract 15.6 K Long contract were covered by FII and 6.8 K Shorts were added by FII. Net FII Long Short ratio at 0.13 so FII used rise to exit long and enter short in Index Futures.
Price is back to gann angle support zone and we have important astro events Full Moon, Mercury Ingress and Moon at Perigess happening today and tommrow as disussed in below video. For Swing traders Bulls need to move above 15746 for a move towards 15809/15871/15934. Bears will get active below 15683 for a move towards15571/15508/15445
Intraday time for reversal can be at 10:15/11:02/12:53/1:56/2:33   How to Find and Trade Intraday Reversal Times
MAX Pain is at 15850 PCR at 0.73 PCR below 0.89 and above 1.3 lead to trending moves, and in between leads to range bound markets.Nifty rollover cost @ 16139and Rollover @69.6 %.
Nifty May Future Open Interest Volume is at 1.09 Cores with liquidation of 4.9 Lakh with increase in cost of carry suggesting SHort positions were closed today.
Maximum Call open interest of 18 lakh contracts was seen at 15900 strike, which will act as a crucial resistance level and Maximum PUT open interest of 21 lakh contracts was seen at 15500 strike, which will act as a crucial Support level
FII's sold 4164 cores and DII's bought 2814 cores in cash segment.INR closed at 78.20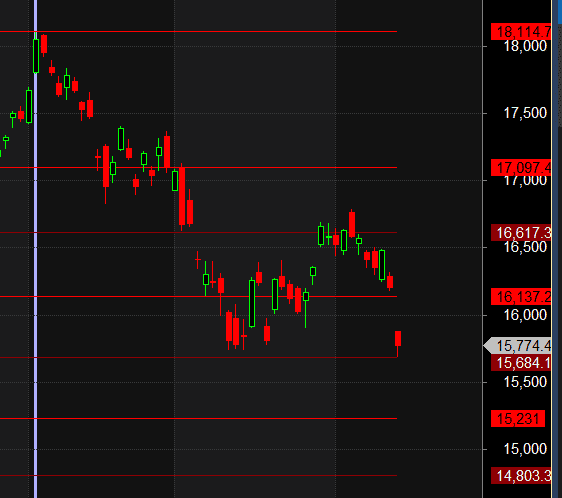 #NIFTY50
IS READY FOR another 453 points move .. Holding 15684 rise towards 16137 Break of 15684 fall towards 15231
The most common fault in trading is overthinking—dwelling on the past and not keeping to the trading plan. Besides thinking too much, a trader may believe he is always correct and will refuse to accept the reality of the market. Thus, he should make extra effort to understand more of himself and his emotion, so that he will trade better and feel better.
For Positional Traders Stay long till we are holding Trend Change Level 16396 and stay short below it. That will help you stay on the side of Institutions and which has a greater risk-reward ratio. For Intraday Traders 15774 will act as a Intraday Trend Change Level.
Buy Above 15777 Tgt 15800, 15843 and 15888 (Nifty Spot Levels)
Sell Below 15743 Tgt 15714, 15676 and 15636 (Nifty Spot Levels)
As always I wish you maximum health and trading success