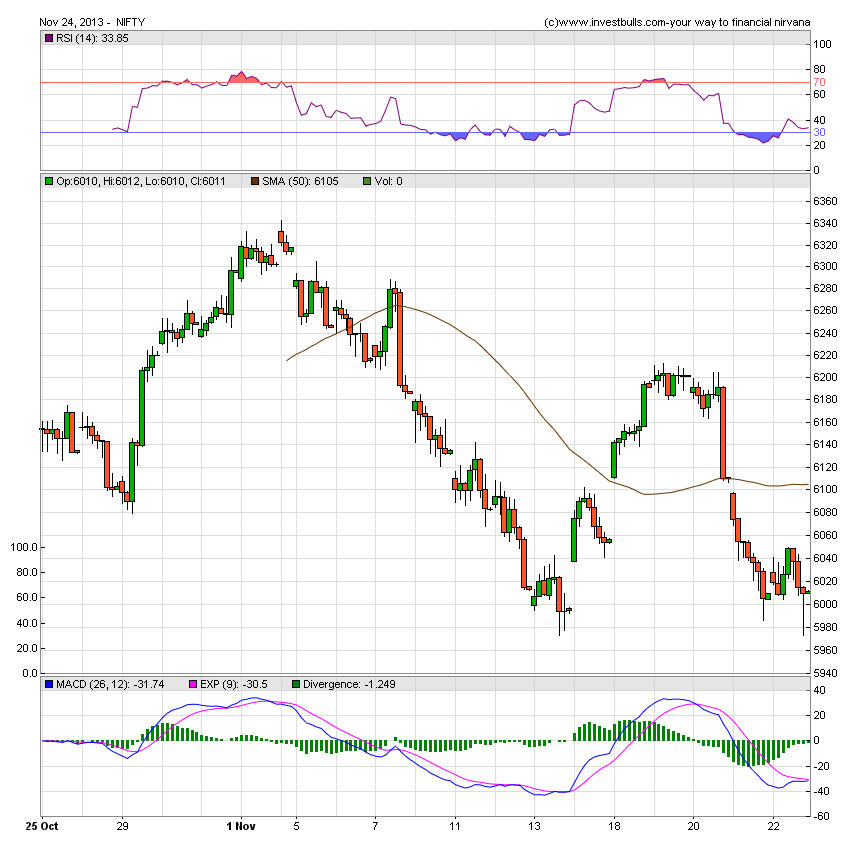 Last Week we gave Weekly Chopad level of 6108 Nifty did the two target on upside and two targets are downside.Next week being an expiry week will be volatile.
Nifty Hourly Chart
 
Nifty once it will move above its 50 HSMA@6109,will be good for bulls in short term.Positive divergence in hourly chart will show it effect if 5972 is held for 2 hours tomorrow.
Nifty Daily Chart

Nifty Daily chart has broken its 50 DMA@6045, and will be resistance for any up move. Double bottom is formed on Daily chart at 5972 confirmation of double bottom will come once nifty held 5972 for next whole week.
 Nifty Gaps

For Nifty traders who follow gap trading there are 5 trade gaps in the range of  5300-6000 and all other gaps got filled.
5285-5303
5448-5553
5680-5700
5780-5802
6122-6097
Nifty Fibonacci fan are wonderful tool to find the top and bottom in short term.Nifty at resistance of Fibo Fan and support comes at 5800 and resistance at 6122.
Nifty Weekly Chart
It was third bearish week, with the Nifty was down by 60 and losing 1%.Nifty for 2 week was unable to cross above the fibo arcs,Any close below 5970 will see Nifty falling towards 5870 odd levels.
Nifty is approaching the monthly closing and to keep momentum in favor bulls will try to close nifty above 6200 level and bears below 5900
 Nifty Trading Levels
Nifty Trend Deciding Level:6000

Nifty Resistance:6050,6122 and 6196

Nifty Support:5946,5864 and 5816
Levels mentioned are Nifty Spot
Stock Performance Intraday sheet for Sep Month is updated on http://tradingsystemperformance.blogspot.com/
Stock Performance Positional sheet for Sep Month is updated on http://positionalcallsperformance.blogspot.com/
Let me go by Disclaimer these are my personal views and trade taken on these observation should be traded with strict Sl
Want to see post in your Inbox,Register by adding your email id in Post in your Inbox section
Follow on Facebook during Market Hours:  https://www.facebook.com/pages/Brameshs-Tech/140117182685863