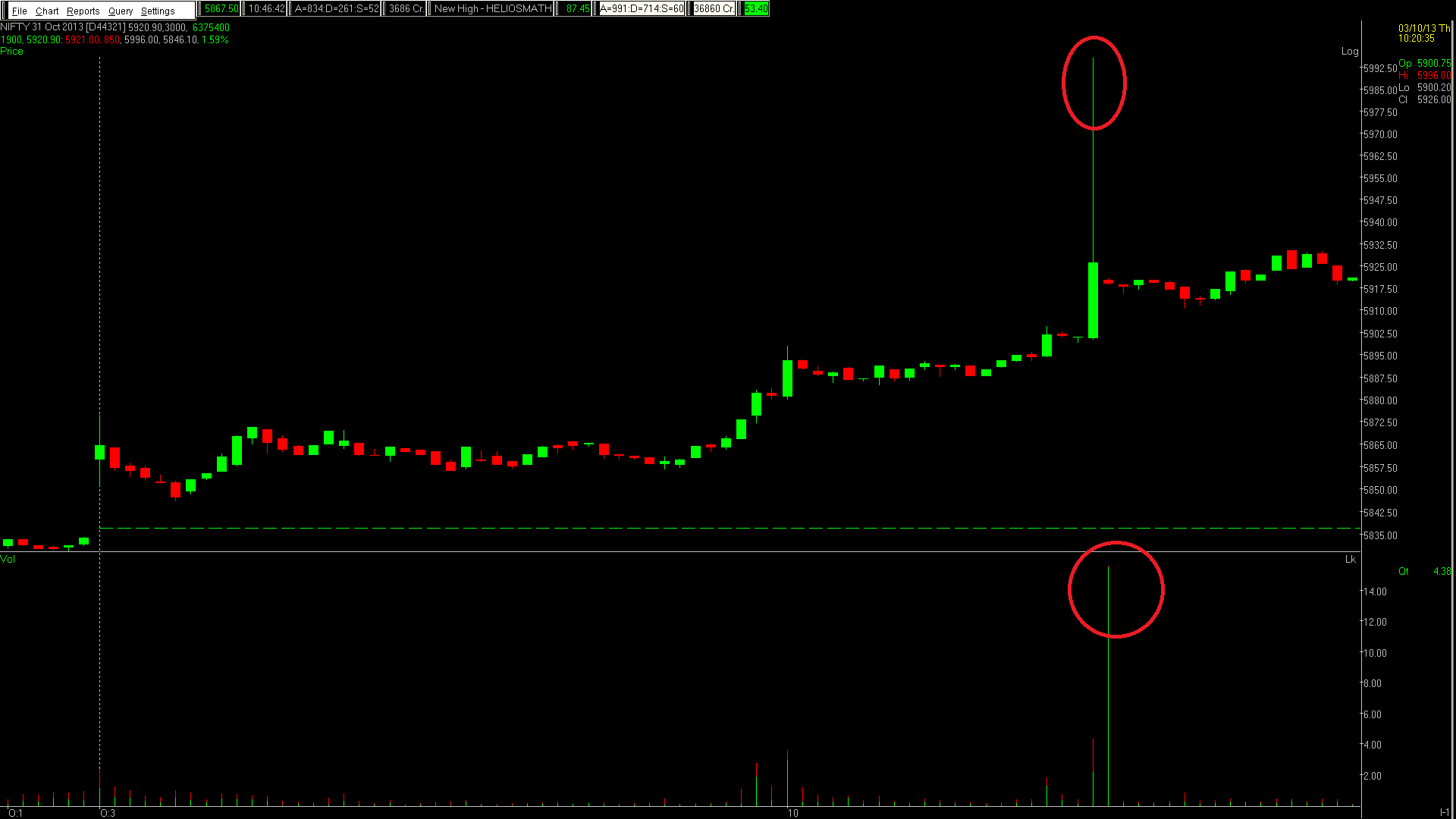 October is known as the month of Flash Crash, This holds true for Indian Markets in particular, Be it Oct 2008 or 2012 or 2013.
Yesterday Nifty Future made High of 5996 when Nifty was trading around 5900. Volumes of almost 8 Lakhs were traded at high of 5996. So was it the case of fat finger in which NF order were placed by mistake or was it the case of conspiracy theory.
Readers do remember on 5 Oct 2012 Nifty  had a flash crash  (Click on Link to read )went down 920 in matter of 5 mins, Thus spoiling sentiments of the street. NSE had shut its equity segment for two hours, when a fat finger trade caused a 900-point dive in the Nifty in two minutes, resulting in the index hitting the lower circuit filter.
What Happened Yesterday after Market Opening
8 lakh units of Nifty futures were traded in the early part of Thursday's trading, which was punched at levels way above the index levels then, created a flutter on Dalal Street.
The trade took the Nifty futures to 5,996 — about 2.9% from the previous day's close in a couple of minutes — when the index was at about 5,900, sparking speculation about the possibility of a freak trade. As shown in below 1 min chart of Nifty Future.
The trade at higher levels triggered stop losses taking Nifty futures close to 6,000 but the contracts returned to 5900-odd levels soon. It, however, had little impact on S&P Nifty, which touched a high of 5,917.60 on Thursday. There was no trading halt as the highs were well within the daily circuit filter limits.
The identity of the brokerage, from where the trade was executed, could not be confirmed but sources said it was a New Delhi-based firm.
Conspiracy Theory doing rounds
A theory doing the rounds in the market is that the trade might not be an erroneous trade, after all. Critics have reasons to believe that there could have been manipulation.
"No brokerage firm or trading desk lets an order of the size of 8 lakh units in Nifty futures be executed at one go. It is usually split into 6-7 orders. The question is how the system allowed such a large single order to go through," said a managing director of a broking firm requesting anonymity.
Also, sources said brokerage, which executed the trades, has not made any request to cancel the trades.
Last Thursday, when the September contracts were set to expire, National Stock Exchange witnessed an erroneous trade in Nifty options, which had resulted in premiums plunging in the last couple of minutes of trade.
Both the trades did not have any cascading effect unlike what happened in an erroneous trade involving Emkay Global on October 05 2012. But, the trade on Thursday involving Nifty futures would have led to some sharp moves if stop losses at the psychological level of 6,000 would have been triggered, said brokers.