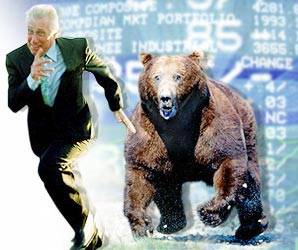 Sensex after closing at 2.5 Year declined 600 point from high as market participant sold shares after the RBI took additional steps to tighten liquidity to shore up the rupee. Rupee was the only gainer from last week closing at 5 week high.RBI policy on 30 June and Monthly closing at 31 will add more volatility to coming week. Action pack week ahead
Last week we gave Trend Deciding level as 6077 Nifty  Nifty achieved all 3 target on  on downside :).
 Nifty Hourly Chart
Nifty Hourly charts forming a pennant pattern signalling decisive move ahead.
 Nifty Gaps

For Nifty traders who follow gap trading there are 4 trade gaps in the range of  5400-6000 and all other gaps got filled.
5588-5630
5682-5749
5816-5869
Nifty Daily Chart
Nifty has formed "THREE BLACK CROWS" candle Stick Pattern ,It is a Bearish Reversal Pattern and nifty can decline to its 200 DMA @ 5800 odd levels.
As per of Fibo Retracement theory Nifty closed below 50% retracement range from 5566-6229 which is a bearish sign, and is now approaching the next important level of 5820.

Nifty Fibonacci fan are wonderful tool to find the top and bottom in short term.Nifty was unable to break above the 3X8 line of Fibo fans and longs should be cautious at higher level. As per Nifty Chopad levels close below 5816 will only be a booster for bears. Last week Nifty Chopad level of 6077 played the trick as we were able to capture the down move.

Nifty Weekly Chart
Nifty closed the week negative  forming  Evening Star candlestick pattern  with loss of 143 points @5886.Weekly chart also gave a failed breakout.Support on Weekly charts comes at 5719
Monthly charts are approaching the higher end of trendline and one more time gave a failed breakout.

 Nifty Trading Levels
Nifty Trend Deciding Level:5898

Nifty Resistance:5946,6020 and 6077

Nifty Support:5820,5778 and 5730
Levels mentioned are Nifty Spot
Stock Performance sheet for June Month is updated on http://tradingsystemperformance.blogspot.in/ 
Let me go by Disclaimer these are my personal views and trade taken on these observation should be traded with strict Sl
Want to see post in your Inbox,Register by adding your email id in Post in your Inbox section
Follow on Facebook during Market Hours:  https://www.facebook.com/pages/Brameshs-Tech/140117182685863