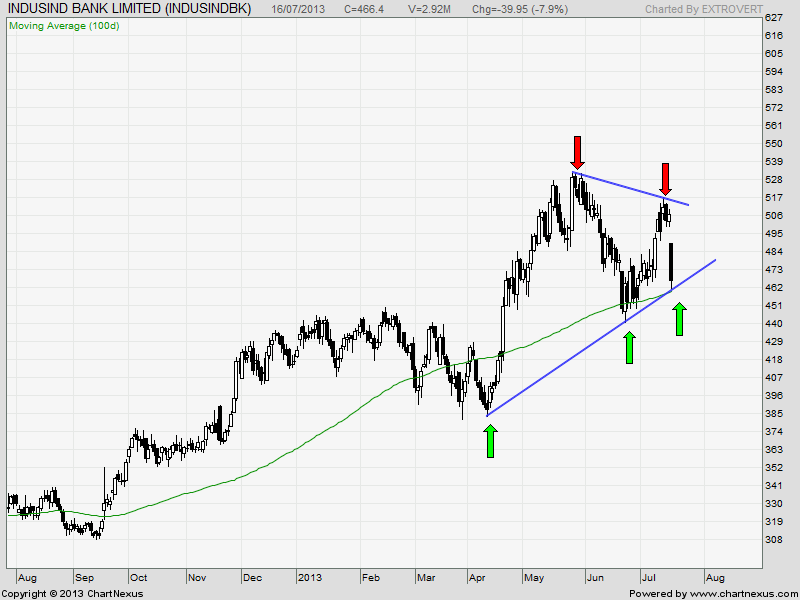 IndusInd Bank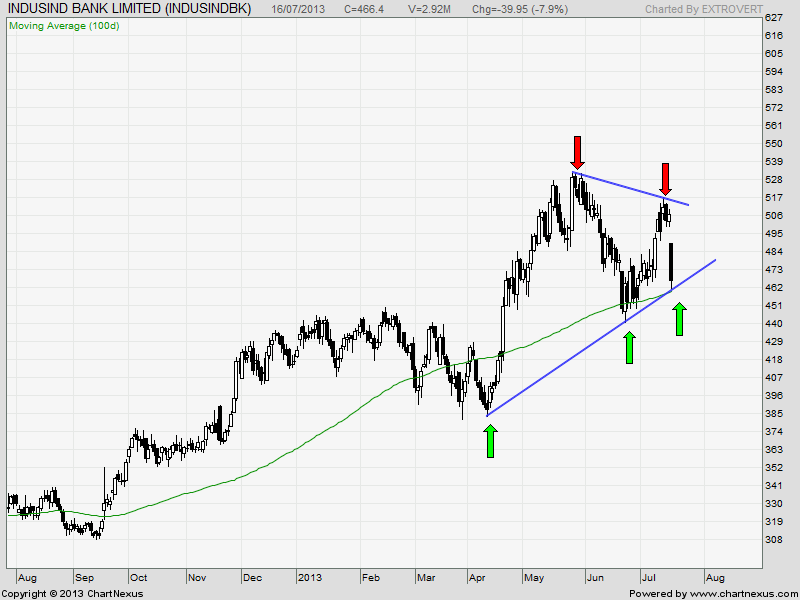 IndusInd bank saw an 8% fall yesterday falling near its short term rising trendline and its 100 DMA also.Breaking of support of 461 and closing below it .Stock can see a pullback till 432 in short term.
Buy above 473 Tgt 479,484 and 489 SL SL 470

Sell below 460 Tgt 456,451 and 445 SL 464
HCL Tech
HCL Tech has been on bull ride,stock rising from 760 to 884 without any pullback. Now stock is showing sign of tiredness and pullback can be expected.Positional traders keep eye on 898 levels,Unable to close above it can see a pullback till 843 odd levels.
Buy above 880 Tgt 884,888 and 895 SL 877

Sell below 873 Tgt 869,864 and 858 SL 875
Jubilant Foods
Jubilant Food has bounced from lower end of Fibo Fans and continued its trading move till higher end of channel at 1180 now is facing resistance.
Buy above 1160 Tgt 1167,1180 and 1199 SL 1152

Sell below 1142 Tgt 1133,1122 and 1111 SL 1152
Stock Performance Sheet for the Month of June is Updated @http://tradingsystemperformance.blogspot.in/  Net Profit for the month of June is .70 Lakh

All prices relate to the NSE Spot
Calls are based on the previous trading day's price activity.
The call is valid for the next trading session only unless otherwise mentioned.
Stop-loss levels are given so that there is a level below/above, which the market will tell us that the call has gone wrong. Stop-loss is an essential risk control mechanism; it should always be there.
Book, at least, part profits when the prices reach their targets; if you continue to hold on to positions then use trailing stops to lock in your profits.
We do discussion in Live market to update Nifty levels If you are interested you can LIKE the page to get Real Time Updates.
Follow on Facebook during Market Hours: http://www.facebook.com/pages/Brameshs-Tech/140117182685863