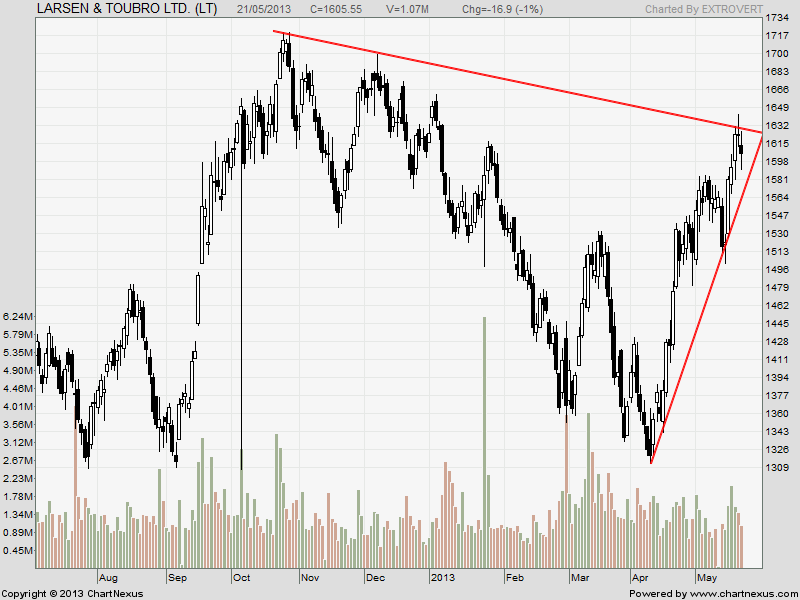 For the reference of readers the performance sheet for the Month of May Expiry has been updated, can be accessed from http://tradingsystemperformance.blogspot.in/.AM happy to share we are in profit of Rs 1.19 lakhs. Hope readers following analysis are also minting money :).
Larsen and Tubro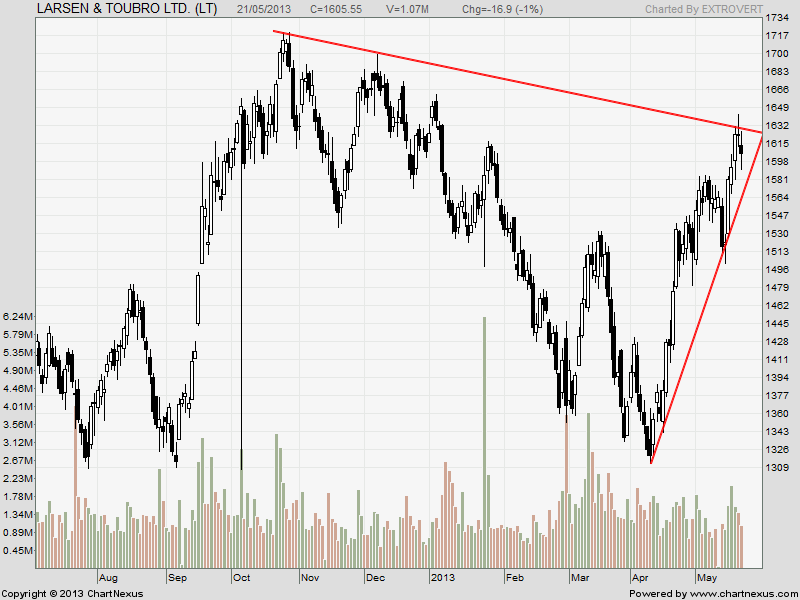 LT will be coming out with its results today around 1 PM in afternoon. Stock has been consolidating in past 2 trading sessions and breakout/breakdown will follow today.Stock will be highly volatile today and traders are advised to use extreme caution when trading LT, trade as per levels and stick with SL
Buy above 1608 Tgt 1618,1630,1641 and 1659 SL 1590

Sell below 1587 Tgt 1573,1553 and 1526 SL 1607
SBI
SBI is approaching the lower end of triangle pattern, SBI will be declaring results on 23 May and break of triangle pattern @2333 will not go well and its will indicate SBI will come with poor set of numbers.
Buy above 2382 Tgt 2395,2408 and 2428 SL 2360

Sell below 2353 Tgt 2333, 2310 and 2284 SL 2362
ICICI Bank
ICICI Bank has formed a tripple top and tripple bottom formation suggestion explosive move is round the corner.
Buy above 1217 Tgt 1226, 1236 and 1250 SL 1211

Sell below 1202 Tgt 1196,1185 and 1160 SL 1208
All prices relate to the NSE Spot
Calls are based on the previous trading day's price activity.
The call is valid for the next trading session only unless otherwise mentioned.
Stop-loss levels are given so that there is a level below/above, which the market will tell us that the call has gone wrong. Stop-loss is an essential risk control mechanism; it should always be there.
Book, at least, part profits when the prices reach their targets; if you continue to hold on to positions then use trailing stops to lock in your profits.
We do discussion in Live market to update Nifty levels If you are interested you can LIKE the page to get Real Time Updates.
Follow on Facebook during Market Hours: http://www.facebook.com/pages/Brameshs-Tech/140117182685863