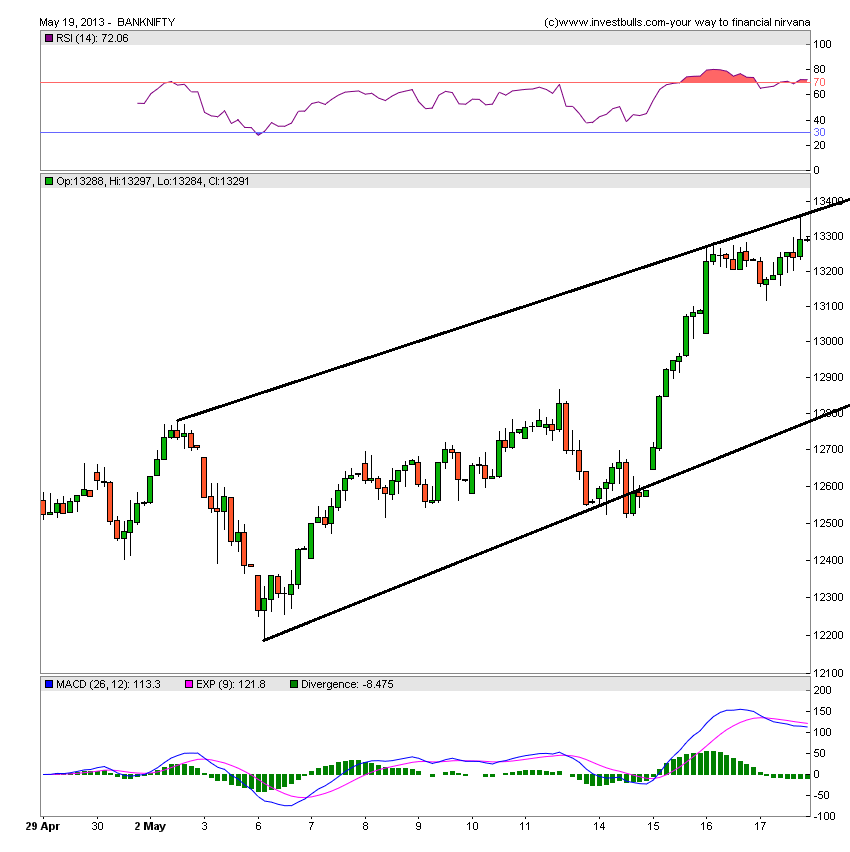 Last Week we gave Bank Nifty Trend Deciding level as 12800 and it did 2 target on downside and achieved all upside targets. Bank Nifty has made a fresh lifetime high of 13355 and closed above its previous life time high of 13303 on Nov 2010
As discussed in Nifty Weekly Analysis, Nifty gave a breakout above 6120 and Bank Nifty  above 12800, So lets discuss how to trade Bank Nifty in coming week.
Bank Nifty Hourly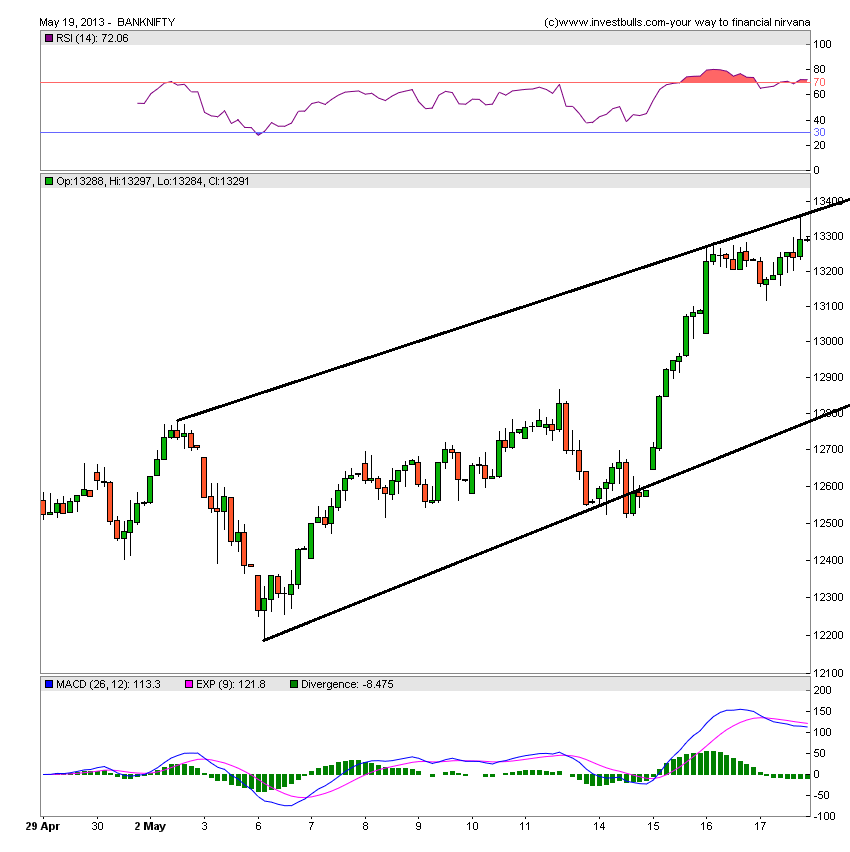 As discussed last week Bank Nifty broke the triangle formation above 12800 and achived the target of 13330. Bank Nifty is trading in perfect channel, trading at the higher end of channel, Unable to cross 13355 pullback back to 13000 can be expected as negative divergence is visble in RSI and MACD.
Bank Nifty Daily
Bank Nifty on daily chart is approaching the higher end of channel at 13609 and profit booking can be expected till 13000 odd levels.
Bank Nifty Fibo Fans
Fibo Fans has been applied on Bank Nifty weekly charts once its crossed 12800 its gave a breakout next target comes at 14000 🙂 Support at 13000.
Bank Nifty Weekly
Bank Nifty on WoW basis was up by 537 points and closed above the life highs. Triangle breakout always give way to large moves as we have seen last week.Negative divergence is very much visible on Weekly and monthly charts and bank nifty is entering an uncharted territory so catuion is advised on long side with strict Sl.
Bank Nifty Monthly
Monthly charts are approaching the long term trendline and made another attempt to touch the trendline @13609 .
 Bank Nifty Trading Levels
Bank Nifty Trend Deciding Level:13355

Bank Nifty Resistance:13501,13609 and 13710

Bank Nifty Support:13210,13116 and 13000
Levels mentioned are Bank Nifty Spot
Let me go by Disclaimer these are my personal views and trade taken on these observation should be traded with strict Sl
We do discussion is Live market to update Nifty levels If you are interested you can LIKE the page to get Real Time Updates.
Follow on Facebook during Market Hours:  https://www.facebook.com/pages/Brameshs-Tech/140117182685863