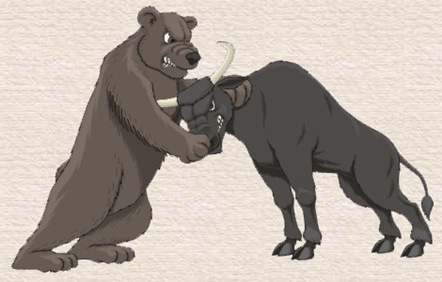 FII Derivative Stats for 16 May Trade in NF
1. FII  sold 3873  Contracts of NF worth 66 cores OI increased by 397.
2. As Nifty Futures was up  by 54 points and OI has increased  by 397 , which signify partial shorts have entered the system.
3. Nifty has closed below 5000 for 5th day in a row  and  below 4951 which was a psychological level 61.8% retracement  and every attempt to move above 4950 was getting sold into. Trading below 4951 is a victory for bears.

4.Nifty gave a relief rally today from 4869-4955 which is 86 Points On Friday it moved from 4905 to 4976 which is again 71 points so Relief rally we are seeing are in range of 64-71 points, So till we see rallies between 60-80 points they should be sold into as these are just short covering rally. Still we did not had a rally above 100 points hence will be considered as short covering rally only.Alos NS has formed a Double top with trading at 4955.
3 gaps which still needs to be filled. Unfilled Gaps in Nifty(Click on the link to see)
5. Nifty  May  OI has decreased by 4.7 Lakhs .Total OI stands at 2 cores. Rise was backed by short covering only.
6. Total F&O turnover was 1 Lakh  Cores  with total contract traded at 2.8 lakh.
7. 5200 CE saw an addition of 1.2 lakhs in OI,total OI now stands at 77  Lakhs making it the higher end of May Series.. Now 5200 looks a strong resistance for May series.  4900-5300 CE added 1.4 lakhs in OI which means bears did not shorted call much,hence we have a good short covering rally.
8. On Put side 4800 PE is having highest OI of 71 lakhs with fresh addition of 3.8 lakhs,so even we closed above 4900 4800 PE saw an addition which means rise are getting shorted by smart money.
9.FII  sold  184 cores and DII sold 82 cores in cash segment.
10. Nifty Futures Trend Deciding level is 4732, Trend Changer at 5089 NF (Above this Level Bulls will rule Nifty/Below this levels Bears have upper hand).If you see Trend Deciding level is down by almost 30 points which means FII have added more shorts in system.
Buy above 4958 Tgt 4976, 5001 and 5038

Sell below 4922 Tgt 4900,4869 and 4836 (Nifty Spot Levels)
Disclaimer: These are my personal views and trade taken on these observation should be traded with strict Sl
We do discussion is Live market to update Nifty levels If you are interested you can LIKE the page to get Real Time Updates.
Follow on Facebook during Market Hours:  http://www.facebook.com/pages/Brameshs-Tech/140117182685863
You can register your email address under Post In your Inbox(Right Side Column) if you want to receive mail instantaneously as soon as site get updated. You will receive a confirmation mail in your registered email address you need to click on link to get it confirmed.