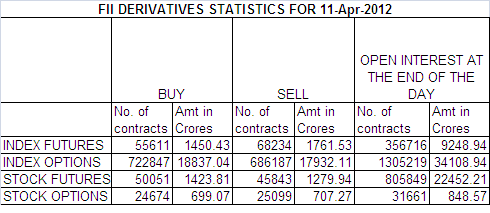 Below is my Interpretation of FII OI data Sheet for 11-Apr-12.
Our heartfelt sympathy to People affected by Earthquake. Our prayers and thoughts are with everyone who has been affected by the dreadful disaster.
1. FII  sold  12623  Contracts of NF worth 311 cores OI also increased  by 14525.
2. As Nifty Futures was down  by 15 points and OI has increased  by 14525 ie. fall in price with rise in OI meaning FII have shorted the Index before the IIP data tomorrow.
3. Nifty  closed below 20SMA@5290 and 50 SMA@5335  for today making it bearish in short term. Trend is favoring bears and Sell on rise should be mantra for the positional traders.
4.We are still in the trading range of 5221-5385. Today made a low of 5203 and bounced back sharply. Till we do not close above or below this crucial range range bound moves will continue.
5. Today we opened gap down tried to fill the gap from 5178-5203 but made a low of 5190 and bounced back and during the afternoon session we were able to fill the gap on upside ie from 5203-5244. Gap of 5178-5190 still remains and looking at FII data seems it should get filled by the end of week.
6. Nifty April   OI has decreased   by 15K,almost a negligible decrease .Total OI stands at 1.70  cores  contracts.
7. FII OI for April Series 356716 higher than 12k from yesterday indication they have entered fresh shorts in the system.
8. Total F&O turnover was 1.14 lakh  Cores  with total contract traded at 375738.

9. 5400 CE is having highest  OI of 52  lakhs  and saw an addition of 5  lakh contracts .5400 looks like a top for time being.
10. 5100 and 5200 PE showed an  addition of  5 Lakh  and 84k taking OI to 57 lakhs . But today 500 PE ishaving the highest OI of 58 lakhs with fresh addition of 4,5 lakhs,Basically meaning the support of 5200 can get broken tomorrow and Smart money is betting on 5000 as a base.
11. Today both big boys were net sellers again . FII sold 445 Cores and DII were also sellers  worth 82 cores.Its been 3 days in a row when both FII and DII are net sellers and in such incident Nifty has a history of falling the next day. This observation comes from the data am having from 2009. 1
12. Nifty Futures Trend Deciding level is 5186, Trend Changer at 5295 NF (Above this Level Bulls will rule Nifty/Below this levels Bears have upperhand).
Buy above 5255 Tgt 5270,5285,5301 and 5333

Sell below 5218 Tgt 5203,5190 and 5174(Nifty Spot Levels)
Let me go by Disclaimer these are my personal views and trade taken on these observation should be traded with strict Sl
To Get Real Time  update on  Nifty during market hours  you can LIKE  the page.
Follow on Facebook during Market Hours:  http://www.facebook.com/pages/Brameshs-Tech/140117182685863