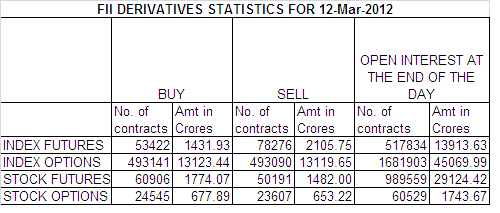 Below is my Interpretation of FII OI data Sheet for 13-Mar-12.
1. FII  sold  1294  Contracts of NF worth 47 cores OI also decreasing  by 9700 contracts.

2. As Nifty Futures was up by 80  points and OI has decreased by 9700  contracts means  profit booking on  longs was done by institutions.
3. Today we Opened with a Gap of 30 Points and the gap never got sold off ie. no gap filling process took place, which basically means lower levels serious buying is emerging. Shorter who got trapped need to closes there shorts at higher levels
4.  Golden Crossover of 50/200 DMA took place which is  considered a Bullish signal and trend reversal sign. 
But always remember the SMA should be allinged in increasing order ie.
20 SMA>50SMA>100 SMA>200 SMA for long term uptrend.

If we have a close look at Nifty chart 100 SMA is still lower than 200 SMA so Golden Cross will not have bullish significance till 100 SMA moves above 200 SMA 
Another Aspect which needs to be taken into consideration is do not go by these signals blindly I have pointed in above chart we had Death Crossover  ir 50 SMA is crossing 200 SMA on downside but Nifty kept on rallying before an eventual fall So these are long term signals and should not be blindly traded on.
5. After 10 trading sessions Nifty finally conquered the 20 SMA making it buy on dips till it closes above 5400. Still lot of ground needs to be covered by Bulls by making Nifty close above 5460. Will the Railway Budget provide the much required trigger for tomorrow.
6. Nifty March  OI has decreased   by 1  lakh .Total OI stands at 2.50 cores  contracts.Fresh longs were added in Nifty Futures.
7.Total F&O turnover was  91.5 Lakh  Cores  with total contract traded at 268373 . Concern is volumes on a 80 points rise are quiet less and which can be sold off quiet easily on downside in terms of any surprises.
8. In equity FII bought  872 cores DII sold   433 cores. We are rising with Tide and njoy the longs till the music lasts.
9. FII trading in Options do Provide some interesting insights  let me share it across. FII net OI got decreased by 53K yesterday when Nifty opened gap up and went down. Today we had seen an addition of 1 lakh in OI which means more gains can be added to this current rally.
10. 5600 CE is having highest OI of  58  Lakhs seems with fresh addition of 6 Lakh contracts 5200 PE having highest OI of 82 lakhs with addition of  7lakhs. 5200 seems to be a firm base.
11. 5400 looks like laxman rekha for bulls which is crossed today and we have an addition of 9 lakhs in 5400 PE. 5500 CE also saw a small unwinding of 61k contracts.
12. 5900 CE saw a surprise addition of 1 lakhs in OI with premium being 8 rs so smart money has enterted into 5900 CE
12. Nifty Futures Trend Deciding level is 5455 at Trend Changer at 5375 NF (Above this Level Bulls will rule Nifty).
 Buy above 5440 Tgt 5455,5483 and 5520
 Sell below 5392 Tgt 5371,5354 and  5322 (Nifty Spot Levels)
Let me go by Disclaimer these are my personal views and trade taken on these observation should be traded with strict Sl
To Get Real Time  update on  Nifty during market hours  you can LIKE  the page.
Follow on Facebook during Market Hours:  http://www.facebook.com/pages/Brameshs-Tech/140117182685863