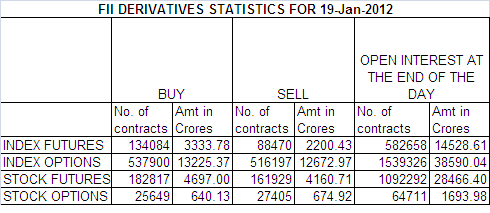 Below is my Interpretation of FII OI data Sheet for 19-Jan-11.
1. FII  bought  45614  Contracts in NF worth 1133  Cores in Index Futures with Open Interest increasing  by 30362 contracts.
2. As Nifty Future  was up  by 64  points and OI has increased today, with rise in price so FII have created fresh longs   in Index futures.Nifty is moving from gap to gap ie.Opening Gap up and than just consolidating through out the day. Day traders have nothing left to trade and earn after huge gap up.
3. As per yesterdays post we expected to see Nifty move above 5000 Looking at liquidation in OI of 5000 CE and today market did close above 5000 but bulk of rise was done with a gap up opening :).
4. NF total OI was at 1.99 cores with 10 Lakh liquidation  in  OI,Profit booking was seen by retailers/HNI and DII when Nifty closed above 5000,but FII were net buyers so lets see who is more smarter 😉
5. FII are net long in the system but Nifty has crossed most of resistance by Gaps which is not healthy for market.We have formed 2 Gaps this week only ie 4874-4905 and 4956-4995 today. Gaps needs to be filled for sustained uptrend in market.
6. How mass psychology gets punished every time 2 weeks down the lane everyone was talking about 4200 and now everyone is talking about 5100-5200 levels. Bearish voices have just vanished.  Love your trading levels and trade on them rest all talks are just hogwash.
7. In Equity cash segment FII bought  626  cores  whereas DII sold  246 cores. FII has bought Stock Futures worth 576 cores.
8. As per Options data  5000 CE has  OI of  66  lakhs with liquidation of  3 lakh so now this give me sense of underlying bullish strength of marketand 4700 PE has highest OI of 78 Lakhs.
9. 5100 CE has seen the highest OI of 70 lakhs with liquidation of 4 lakhs contracts so now Bears are not sure of defending 5100 level also.
10. PCR has increase to 1.23 PCR above 1.3 leads to trending moves, so if we cross 5100 this week Bulls can make a killing in Expiry week.
11 .50000 PE saw a Huge addition of another 15 lakhs in OI when Nifty is trading up by just 18 points, Bulls are getting confident on 5000 Level,My take Nifty will dip below 5000 to shake off confident bulls provided there is not another gap up opening.
12. FII SAR level  comes at  4987  and Nifty ATP for Dec series comes at 4818.

12. Bulls need to close above 5068 level tomorrow which will be a litmus test as it being 61.8% retracement of 4532-5400 as shown in below chart.
Buy above 5024  Tgt 5043,5068 and 5099

Sell below 5010 Tgt 4998,4978 and 4966
All levels mentioned are SPOT levels.
Let me go by Disclaimer these are my personal views and trade taken on these observation should be traded with strict Sl
Follow on Facebook during Market Hours:  http://www.facebook.com/pages/Brameshs-Tech/140117182685863