As Discussed in Last Analysis  Bank Nifty Bulls opened with gap up but unable to sustain above 35225, Bears below 34977 did 34789. Today again we will see gap down open .Bulls need to close above 34977 now waiting for target of 35166/35354/35543. Bears will get active below 34729 for a move towards 34556/34368/34180. 2 Bearish target done below 34977 . Weekend we have Double Ingress so aviod carrying overnight positions. 15-18 July are Astro Heavy dates suggesting we can see some positive coming from both Stock and Currency Markets. Bears below 34600 now waiting for 34411/34223/34034.Bulls need to close above 34789 now waiting for target of 34977/35166/35354. For Intraday traders watch for first 15 mins High and Low to take the trades. 
Intraday time for reversal can be at 9:15/10:47/11:33/12:47/1:51/2:35   How to Find and Trade Intraday Reversal Times
Bank Nifty May Future Open Interest Volume is at 20.5 lakh with liqudiation of 1.9 Lakh contract , with increase in Cost of Carry suggesting  Long positions were closed today.
Bank Nifty rollover cost @ 33655  and Rollover @80.2 % Closed above it.
Range of 35325-35358 should be watched closely. Its Make or break level for 1000 points Move in Bank Nifty. Price closed below 35325 and 500 points done. 
Above 35550 we can see move towards 35958. Price unable to close above 35550.Till we are below 35170 Bears have upper hand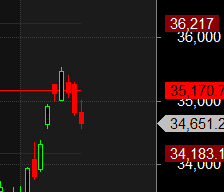 Maximum Call open interest of 12 lakh contracts was seen at 35000 strike, which will act as a crucial resistance level and Maximum PUT open interest of 12 lakh contracts was seen at 34500 strike, which will act as a crucial Support level
MAX Pain is at 34700 and PCR @0.99 . PCR below 0.93 and above 1.3 lead to trending moves, and in between leads to range bound markets.
We as a human programmed not to accept our defeat, that is the core our our evolution we are able to survive because of this mental coding. You might have seen so many people coming back to market after loosing everything in market. So due to this it is very hard for us to accept that we lost in a trade. So we keep on waiting for trade to return in our favour.
For
Positional Traders
Trend Change Level is
34521 on Futures
and go long and short above/below it That will help you stay on the side of Institutions and which has a greater risk-reward ratio. For Intraday Traders
34833
will act as a
Intraday Trend Change Level. 
Buy Above 34700 Tgt 34816, 34933 and 35214 (Bank Nifty Spot Levels)
Sell Below 34555 Tgt 34444, 34323 and 34125

(Bank Nifty Spot Levels)
As always I wish you maximum health and trading success