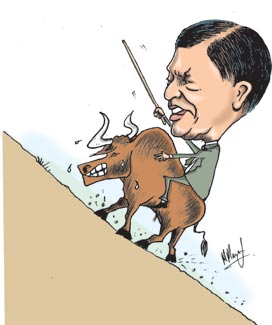 1. FIIs bought 2538 Contracts of Index Future (NSE Nifty Futures and Bank Nifty Futures combined),worth 76 cores with net Open Interest decreasing by 8822 contracts.
2. As CNX Nifty Future was up by 35 points with Open Interest in Index Futures decreasing by 4663, so FIIs again booked out longs  in Nifty and Bank Nifty Futures.
3. NS closed at 6039  after making high of 6053 and low of 5988 . So today after yesterdays fall Nifty started to recover, With government decision of partial deregulation of Diesel all OMC were rocking. Now one thing i do nt understand is Partial deregulation still means OMC has to take permission of government to hike the prices so still ball is in Government court only 🙂

4. Resistance for Nifty has come up to 6056 and 6070  which needs to be watched closely ,Support now exists at 6027 and 6000 .Trend is Sell on Rise till 6070 is not broken on closing basis.

5. Nifty Future January Open Interest Volume is at 1.45 cores with addition of 0.13 lakh in Open Interest, longs were added  in Nifty future.Cost of Carry of Nifty Future reduced to 5 with rise in OI. Nifty positional traders must have one hell of session in last 1 week with sl getting frequently stopped out. Those who are trading based on our Trend Deciding level must be at peace as Stop loss is still not triggered 🙂

6. Total Future & Option trading volume at 1.32 lakh Cores with total contract traded  at 2.12 lakh, PCR (Put to Call Ratio) at 0.93  and VIX at 14.01.Be Informed VIX in India market is trading at 18 year low.

7. 6200 Call Option is having highest Open Interest of 82.6  lakhs with liquidation of 3.4 lakhs in Open Interest, 6100 Nifty CE  is having second highest OI at 59 lakh also saw liquidation of 5.1 lakhs in OI,with Option premium at Rs 36 short unwinding as out of  16 lakhs added in last 2 days only 5 lakhs got liquidated in 6100 CE,6000 CE saw liquidation of 1.2 lakhs in OI  .5700-6300 Call Options liquidated 9.5 lakhs in OI so total OI which got added yesterday got liquidated today so a reversal in Option table is seen.
8. 5900 Put Option is having Open Interest of 83.2 lakhs with addition of 5.2 lakhs in OI so firm base is set up at 5900 and 6000 Put Option added huge 14 lakhs with OI at 73 Lakhs so the 10 lakhs liquidation which we saw yesterday 14 lakhs got added  today .5700-6300 Put Options added 25.6  lakhs in OI.
9. FIIs buying in Equity in tune of 564 cores and DII sold 519 cores in cash segment,INR closed at 54.40 Live INR rate @ http://inrliverate.blogspot.in/).
10. Nifty Futures Trend Deciding level is 6030(For Intraday Traders), Trend Changer at 6013 NF(For Positional Traders). (Above this Level Bulls will rule Nifty/Below this levels Bears have upper hand). Bank Nifty Future Trend Changer Level 12762.

Buy above 6057 Tgt 6070,6091 and 6118

Sell below 6026 Tgt 6016,6000,5988(Nifty Spot Levels)

Traders who use Pivot and Camarilla can use the follwing 2 sites for Hourly values and EOD values

http://camarillapivotpoints.blogspot.com/
http://niftystockpivot.blogspot.in/
We do discussion is Live market to update Nifty levels If you are interested you can LIKE the page to get Real Time Updates.
Follow on Facebook during Market Hours: http://www.facebook.com/pages/Brameshs-Tech/140117182685863
You can register your email address under Post In your Inbox(Right Side Column) if you want to receive mail instantaneously as soon as site get updated. You will receive a confirmation mail in your registered email address you need to click on link to get it confirmed.