FII sold 95  contract of Index Future worth 1528 cores, Net OI has increased by 1.8 K contract 3.4 K Long contract were addded by FII and 23.6 K Shorts were added by FII. Net FII Long Short ratio at 0.13 so FII used fall to enter long and enter short in Index Futures.
As discussed in Last Analysis   We have 7 important astro date tommrow suggesting it will be high intesity date as discuused  in below video most important are the Bayers date Bayer Rule 6: The price is in bottom/top when Mars was in 16 degrees 35 minutes of some sign and plus 30 degrees.Bayer Rule 27: Big tops and big major bottoms are when Mercury's speed in Geocentric longitude is 59 minutes or 1 degree 58 minutes. Nifty is near gann angle and formed NR7 pattern today. For Swing traders Bulls need to move above 15847 for a move towards 15909/15972/16034/16097. Bears will get active below 15634 for a move towards 15571/15508/15545. All Bearish target done and we have seen the impact of how Astro impact the Stock Market.Next important High Intensity date is 21 June. For Swing traders Bulls need to move above 15540 for a move towards 15519/15599/15685. Bears will get active below 15323 for a move towards 15285/15225/15166.
Intraday time for reversal can be at 9:32/10:29/1:23/2:09/3:09  How to Find and Trade Intraday Reversal Times
MAX Pain is at 15400 PCR at 0.77 PCR below 0.89 and above 1.3 lead to trending moves, and in between leads to range bound markets.Nifty rollover cost @ 16139and Rollover @69.6 %.
Nifty May Future Open Interest Volume is at 1.10 Cores with addition of 5 Lakh with increase in cost of carry suggesting Short positions were added today.
Maximum Call open interest of 28 lakh contracts was seen at 15500 strike, which will act as a crucial resistance level and Maximum PUT open interest of 31 lakh contracts was seen at 15300 strike, which will act as a crucial Support level
FII's sold 3257 cores and DII's bought 1929 cores in cash segment.INR closed at 78.31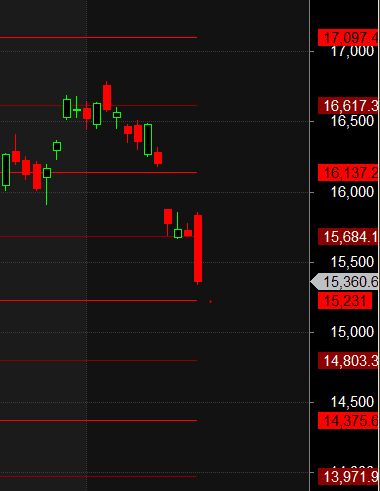 #NIFTY50
IS READY FOR another 453 points move .. Holding 15684 rise towards 16137 Break of 15684 fall towards 15231.

Today Broke 15684 and low made was 15335 and now waiting for 15231 .
Finding good trades is hard enough, while finding poor trades seems to get much easier after a couple of winners.
For Positional Traders Stay long till we are holding Trend Change Level 16310 and stay short below it. That will help you stay on the side of Institutions and which has a greater risk-reward ratio. For Intraday Traders 15742 will act as a Intraday Trend Change Level.
Buy Above 15400 Tgt 15440, 15484 and 15525 (Nifty Spot Levels)
Sell Below 15323 Tgt 15300, 15275 and 15225 (Nifty Spot Levels)
As always I wish you maximum health and trading success